Conference Proceedings
Conference Proceedings
To list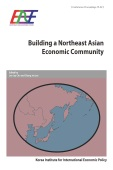 Building a Northeast Asian Economic Community
Economic development, Economic integration
Author Edited by Lee-Jay Cho and Chang Jae Lee Series 15-02 Language English Date 2015.12.30
The Northeast Asia Economic Forum (NEAEF) is a regional nongovernmental organization created in 1991 to sponsor and facilitate research, networking, and dialogue relevant to the economic and social development of Northeast Asia. The Forum is also committed to promoting understanding and relations among the peoples of Northeast Asia, North America, and Europe.
The main objective is for NEAEF to conduct research and conference activities aimed at functional economic cooperation such as cross-border energy, transportation and logistics infrastructure development, and capital mobilization. The Forum holds annual conferences, workshops, and seminars for planning, facilitating, coordinating, and implementing international and interdisciplinary solutions to common policy problems. It is the only nongovernmental regional organization in which all the nations of Northeast Asia and the US are consistent and active participants.
In collaboration with the Korea Institute for International Economic Policy (KIEP), in 2015 NEAEF carried out activities on building a Northeast Asian Economic Community based on lessons learned from NEAEF's previous work on financing cross-border functional economic cooperation. For the first year of this collaborative project the focus was on regional cooperation and strategies in Northeast oriented toward North Korea―this work focused on functional economic cooperation in cross-border resources, energy supplies, infrastructure construction, capital mobilization, and institutional development.
This volume is the first part in a series of proceedings titled Building a Northeast Asian Economic Community. It contains presentations and summaries from the NEAEF Beijing Special Meeting and the related activities that took place under this project. The aim of the project is to contribute to and encourage activities and efforts toward regional economic integration in Northeast Asia.
Preface

Contributors

Introduction and Overview
Part 1. Regional Integration in Northeast Asia: Status and Potential
A Northeast Asian Economic Community: A Korean Perspective
Chang Jae Lee
Introduction
Recent Trade Situations of China, Japan, and Korea
China-Japan-Korea FTA (CJK FTA)
Conclusion
References
A Northeast Asian Economic Community: A Chinese Perspective
Fu Jingyun
Evolution of China's FTA and Regional Economic Integration Policies
Overview of China's FTA Network
Characteristics of China's FTA Policies
Prospects of China's FTA Policies and Their Implications for the Region
A Northeast Asian Economic Community: A Japanese Perspective
Yasuo Tanabe
A Northeast Asian Economic Community
An Asian Energy Partnership
Japan-China Energy Conservation Forum
Conclusion
A Northeast Asian Economic Community: A Russian Perspective
Sergei Sevastianov
Introduction
Past and Present Russian Regional Policy in the Far East
Development of Energy and Transport Infrastructure in Eastern Siberia and the Russian Far East
Russian View and Possible Role in NEA Integration
Subnational Models of Economic Cooperation in NEA
Conclusions and Recommendations:
Toward a Northeast Asia Economic Community: Lessons from the European Union (EU), Good and Bad
Glyn Ford
EU lessons for Northeast Asia
Potential for Connectivity in Northeast Asia: Energy and Transport Infrastructure in Eastern Siberia and the Russian Far East
Dmitry Reutov
Energy Projects
Transportation Infrastructure
Conclusion

Part 2. Renewable Energy in Northeast Asia and Prospects for the Region

China Renewable Energy Development and Future Prospects for Cooperation
Shi Dinghuan
History and Mission of the China Renewable Energy Society
Renewable Energy in China
Prospects for Northeast Asia Cooperation
Status of Renewable Energy Development―Toward a Low Carbon Society
Yoshiki Iinuma
Hawaii's Clean Energy Transformation
Mark Glick
Introduction
Renewable Energy and Energy Savings
Tackling Transportation
Reducing Energy Demand
Hawaii: A Clean Energy Test Bed

Part 3. Financial Cooperation in Northeast Asia
Financing the Asian Infrastructure Investment Bank (AIIB):
Issues for Further Discussion
S. Stanley Katz
Development Bank Objectives
AIIB Financial Arrangements and Parameters
Creating a Multilateral Development Fund for Financial Cooperation in Northeast Asia
Jai-Min Lee
Recent Developments Impacting the Northeast Asian Development Bank Proposal
Creation of NEA Fund
Role of the Greater Tumen Initiative (GTI)
Conclusion
Establishing a Northeast Asian New Financial Institution to Promote Regional Economic Cooperation and Development
Zou Lixing
Strategic Value of and Market Demand for a Northeast Asian New Financial Institution
The Relationship between a New Northeast Asian Financial Institution and
the Asian Infrastructure Investment Bank (AIIB)
Basis and Path to establish a New Northeast Asian Financial Institution
Financial Cooperation in Northeast Asia: Japan's Perspective
Hideo Naito
The Potential of Northeast Asia
Recent Trends in Financial Cooperation in Northeast Asia
Partnership for Quality Infrastructure
Japan and NEA Potential
Public Private Partnership (PPP) Readiness in Asia-Pacific
The Belt and Road Initiative: Ambition and Reality of China's "Go Global" Strategy
Liu Ming
Background of the Belt and Road Initiative
Belt and Road Initiative: Challenges
Conclusion

Appendix

Sales Info
Quantity/Size, Sale Price

| | |
| --- | --- |
| Quantity/Size | 166 |
| Sale Price | 7 $ |