Working Papers
Working Papers
To list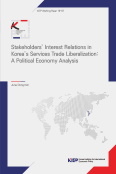 Stakeholders' Interest Relations in Korea's Services Trade Liberalization: A Political Economy Analysis
Trade policy, Political Economy
Author June Dong Kim Series 19-07 Language English Date 2019.11.20
This paper seeks to analyze the major factors behind why each stakeholders in the legal, health, educational and audio-visual service sectors in Korea op-pose liberalization in a qualitative political economy context as well as to pro-vide alternative strategies for further liberalization in these four service sectors. In legal services, the foreign equity ceiling of 49 per cent for joint venture law firms may be lifted as long as the present regulation against the number of FLCs in a joint venture law firm exceeding the number of Korean lawyers is maintained. In health services, as a step-by-step approach, we can first con-sider a system where incorporated hospitals can be established and liquidated more freely by deregulating current limitations placed on the disposal of re-maining properties, while an overly distribution of dividends is restrained. In educational services, in order to deregulate limitations regarding the disposal of remaining properties, it will be necessary to enhance the transparency of management and operation of private schools. In this regard, allowing school foundations to take the form of a limited liability company could be considered, since they would then become subject to external financial audit. In audio-visual services, it will be necessary to improve monitoring and im-plementation of intellectual property rights as well as competition policy when considering further liberalization.
The major factors compelling each stakeholder in the legal, health, educational and audio-visual services to oppose further liberalization can be summarized as a general mindset towards uniform equity and control, cultural factors pre-venting discussion on rational alternatives, insufficient government budget for universal services, lack of administrative capacity in policy implementation and monitoring, absence of a proper system to evaluate the quality of ser-vices, asymmetry of information, and persistence of acquired rents.
In order to correctly identify and understand the nature of problems, the highest priority should be placed on reducing the mistrust among the con-stituents. This is because mistrust among the constituents acts as the most important impediment when attempting value-creating negotiation strategies among each of the stakeholders. Meanwhile, to build trust among all constit-uents, free flow of information works as an important factor.
Therefore, the problems of mistrust and lack of free flow of information are the most important impediments to improve those constraints that were analyzed in the selected service sectors. In addition, they are interlinked with each other, so that dealing with these problems simultaneously is a rational solution. In order to accomplish this, it is utmost important to develop the capability of each constituent to allow them to interpret specific pieces of information without distortion. In this regard, upgrading research and educa-tion of economics also becomes imperative.

Executive Summary
1. Introduction
2. A Sectoral Analysis
2-1. Legal Services
2.2. Health Services
2.3. Educational Services
2.4. Audio-Visual Services
3. Conclusion and Policy Implications
References

Sales Info
Quantity/Size, Sale Price

| | |
| --- | --- |
| Quantity/Size | 35 |
| Sale Price | 3 $ |