Working Papers
Working Papers
To list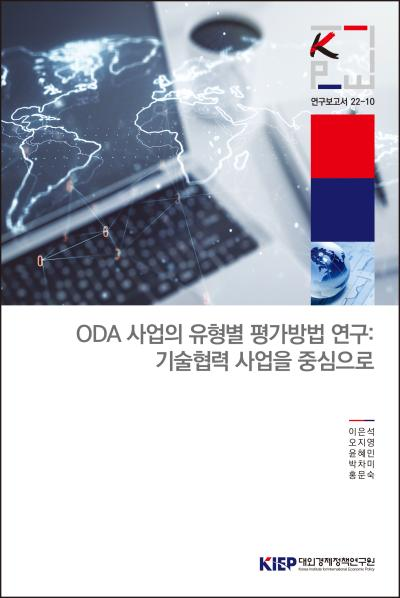 Developing ODA Evaluation Methodology for Technical Cooperation
ODA, Technical cooperation
Author Eunsuk Lee, Gee Young Oh, Hyemin Yoon, Chami Park, and Moon Suk Hong Series 22-10 Language Korean Date 2022.12.30
With the expansion of Korea's official development assistance (ODA), there is a growing demand for systematic management and effective evaluation. However, the evaluation of Korea's ODA mainly depends on guidelines and manuals designed for project-type interventions, while there is a lack of research on evaluation methodology for other types of ODA. Specifically, there are significant limitations when applying project-type ODA evaluation methods to technical cooperation (TC), including policy consulting and training.
Therefore, this study investigates evaluation methods in consideration of the characteristics of Korea's TC projects and the evaluation environments of its ODA implementing agencies, aiming to design a practical and useful evaluation framework for Korean TC interventions. To this end, it reviews the current trends in TC, discussions of ODA evaluation, and challenges in developing an evaluation methodology for TC projects.
As shown in Chapter 2, the proportion of TC projects in Korea's ODA is higher compared to other OECD DAC donors. However, these projects tend to be short-term and small in scale, with 14 out of 31 agencies implementing TC projects with funding of less than KRW 1 billion, or well under USD 1 million. In the case of small-sized TC interventions, the outcomes are often intangible and long-term, posing challenges in determining when and how to measure project results. As such, it is important to consider the evaluability and utility when selecting TC projects for evaluation, aligning with the recent trend that emphasizes the learning opportunities and usefulness derived from evaluations.
Chapter 3 examines the evaluation systems and cases of six multilateral organizations and four bilateral development agencies that carry out TC projects. It has been demonstrated that major donors are addressing the constraints of TC evaluation by reducing the formality and burden associated with evaluations. While formal evaluations are carried out for projects with high evaluability and utility, simplified evaluations that review and validate project completion reports are also on the rise, especially at multilateral institutions. Another important aspect is that comprehensive evaluations are conducted for projects within a similar policy, program, or sector. Most evaluation design is based on theory of change (ToC), in which qualitative analysis and indicators are frequently used due to difficulty of quantifying the effects and outcomes of TC projects.
Chapter 4 presents an in-depth analysis of the characteristics of Korea's TC evaluation, with a specific focus on development consulting and training programs. In most cases, performance indicators were defined as the number of outputs or satisfaction scores, but these scores often fall short in accurately representing project outcomes. Alternatively, it would be more effective to collect detailed qualitative information from participants in evaluating the quality of the project content, knowledge transfer or collaboration methods, and gather opinions to contribute to project improvement. In comprehensive evaluations that cover multiple projects, establishing clear evaluation objectives would enhance the usefulness of evaluation results.
Based on the findings mentioned above, this study presents the following implications for Korea's TC evaluation. Firstly, it is necessary to set the scope of project results in consideration of the evaluability of TC projects, and employ representative indicators that can provide useful evaluative information on the project processes and quality. For short-term and small-scale projects that have relatively low utility in evaluation, it is advisable to consider conducting clustered evaluations when necessary. In cases where a formal evaluation is not possible, a cost-effective and simplified evaluation can be utilized to ensure accountability and provide learning opportunities. Lastly, it is crucial to clearly define the purpose of evaluation in order to determine the timing and scope of evaluation, as well as whether to involve an external consultant.
Building on this analysis, Chapter 5 proposes a TC project management and evaluation system consisting of four steps that can be used for Korea's typical TC activities. The first step which is a prerequisite is to collect project information and data through systematic monitoring throughout the project implementation. Secondly, upon project completion, the project team conducts a self-evaluation as part of the final report to assess the experience and lessons learned during the project implementation that can be accumulated as organization knowledge. Thirdly, a simplified end-of-project evaluation is carried out in which an external evaluator verifies the quality of the project completion report and the self-evaluation. As the final step, an ex-post comprehensive evaluation may be conducted by grouping selected TC projects based on specific needs.
This step-by-step evaluation mechanism enables small-scale ODA-implementing agencies to conduct evaluations with limited funding while maximizing the utility of the evaluations. To ensure the effective implementation of these measures, each implementing agency should clearly define the purpose of evaluation and establish a comprehensive management system for TC projects. Additionally, TC evaluation should emphasize the identification of project strengths, weaknesses, and areas for improvement by incorporating a range of qualitative measures alongside quantitative outcomes. The Committee for International Development Cooperation is recommended to encourage flexibility in the methods of TC evaluations, and provide quality standards for TC projects, enabling each implementing agency to independently manage the quality of its projects.
Sales Info
Quantity/Size, Sale Price

| | |
| --- | --- |
| Quantity/Size | 313 |
| Sale Price | 12 $ |

공공저작물 자유이용허락 표시기준
(공공누리, KOGL) 제4유형
대외경제정책연구원의 본 공공저작물은 "공공누리 제4유형 : 출처표시 + 상업적 금지 + 변경금지" 조건에 따라 이용할 수 있습니다. 저작권정책 참조