Working Papers
Working Papers
To list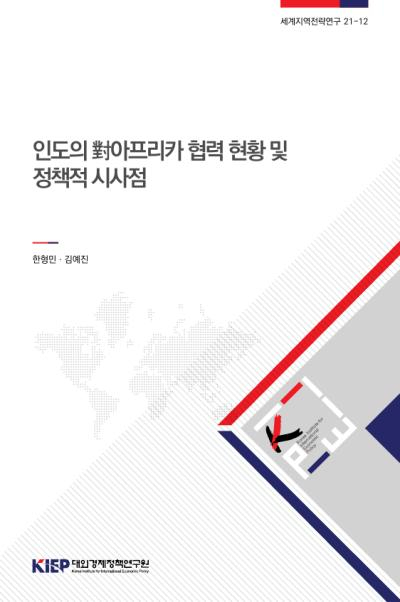 Implications of India's Africa Policy for Korea
Economic development, Economic cooperation
Author Hyoungmin Han and Yejin Kim Series 21-12 Language Korean Date 2022.05.27
As Africa rises in both economic and demographic terms, India, as the largest country of import after China, is becoming one of Africa's core partner countries. The size and share of Africa's import from India has grown from $18.7 billion (3.7%) in 2010 to $30.2 billion (5.4%) in 2019. While Korea is also regarded as Africa's emerging partner, import from Korea has dwindled during the same period, from 8th largest to 17th. In terms of export value, it has decreased from $16.8 billion to $10 billion. This book examines India's strategy and policy towards Africa with regards to the deepening cooperation between India and Africa. It seeks to derive policy implications for future cooperation between Korea and Africa by analyzing India's current trade with Africa and her strategies through quantitative tools and case studies.
While the Asia-Pacific, Europe, North America and the Middle East are the largest regions of import for Africa, India is the largest country, accounting for 9.2% of Africa's total import in 2019. India's exports to Africa have traditionally headed towards Southeast African countries, where many countries belong to the Commonwealth, and to the islands located in the Indian Ocean. However, export trends have recently skewed towards northwestern Africa, especially Nigeria and Egypt, whereas exports to South Africa, with whom India has had strong economic relations, have decreased, resulting in the diversification of Indian exports to Africa. The composition of export items is mixed and includes high value-added products such as chemicals, machinery, and electronics as well as low value-added products such as shoes, stone materials and glass.
In terms of investment, India is a major investor in Africa, following that of Europe and South Asia. India's investment value in 2020 totaled $3.57 billion. At the country level, most of India's investment is in Mauritius while investment in Mozambique has gradually increased. Investments in Nigeria, Kenya and South Africa have also expanded. Areas of investments have seen change from manufacturing to service in Mauritius, and from manufacturing to construction in Nigeria. On the other hand, India's investment in South Africa is relatively small compared to its export value, and is rather focused on the manufacturing sector compared to the service sector. India's investment in Kenya has increased significantly under the Modi administration. Manufacturing and services account for the largest portion in Kenya.
In the area of development cooperation, India's annual aid to Africa averaged $800 million over the past 10 years. Although development aid to Asia has greatly increased since the Modi administration, India's aid has largely been directed towards Africa throughout the years, covering 34 African countries. India's development loans have been utilized for infrastructure development and also for projects specifically intended to strengthen security ties. Also, through its partnership with the private sector, the Indian government has strengthened cooperation in the areas of agriculture, energy, health and IT. India also deploys trilateral partnerships with advanced economies such as the US and UK in its cooperation with Africa.
One characteristic of India's cooperation with Africa is that India emphasizes commonalities with Africa, such as its colonial history, alliance to the "Third World" or their emphasis on market diversification, to build ideological and economic consensus on which they have strengthened their partnership. The numerous presence of overseas Indians in Africa also factor into India's interest in Africa. The overseas Indian population in Africa grew with the expansion of the British empire during imperialism, reaching the current total of 2.85 million. Countries with the largest Indian population are South Africa, Mauritius, Kenya and Tanzania, which are also India's main trade and investment destinations.
India's cooperation strategy for Africa materialized in the Singh administration. Noticeable state level cooperation began with the India-Africa Summit in 2008, whereas cooperation within the private sector channels was launched in 2005 through the CII-EXIM Bank Conclave on India-Africa Project Partnership.
India's Africa strategy can be divided into financial support and capacity building. On the financial side, India introduced the Indian Development and Economic Assistance Scheme (IDEAS) in 2005 to provide development loans to developing countries, with India's development loans estimated to reach $12.5 billion in 2019. Although the conditions of India's loans are unfavorable compared to that of Korea's in terms of interest rates and repayment periods, they are actively sought by African countries because of the wide range of products and services covered by the loan. India's support includes infrastructure development, capacity building, as well as military supplies and training, particularly because India stresses a demand-based partnership.
On capacity building, India's support has channeled mainly through the Indian Technology and Economic Cooperation (ITEC) and Pan-Africa e-Network (PAEN) platforms. ITEC focuses on the capacity building of civil servants in partnering countries and has operated in 160 countries since 1964. African participants compose 40% of ITEC graduates. Participants of ITEC are funded by the Indian government. ITEC provides more than 300 programs a year covering a diverse range of studies including finance, IT, and environmental studies. Since 2018, it also provides cultural training programs for yoga and meditation. India seeks to strengthen security partnerships with its neighboring countries through ITEC by providing special military training programs as it holds concerns for the security of the Indian Ocean against the growing Chinese influence in the region, and with the launch of the Quadrilateral Security Dialogue.
Meanwhile, the Pan-African e-Network (PAEN), which was launched in cooperation with the African Union (AU), sought to strengthen the connectivity of the African continent and provide universal online education. Through PAEN, the Indian government established wireless networks in selected African countries, through which online medical and academic teaching was provided by higher education institutions and medical institutions based in India.
In summary, India's Africa cooperation policy shows four characteristics: 1) it is demand-driven; 2) presents a "South-South" cooperation model, different from that of developed countries or China; 3) utilizes India's developmental experience in institutional and capacity building; and 4) is supported by the Indian overseas residents in Africa.
Based on the analysis above, this study proposes the following policy directions to strengthen Korea's cooperation with Africa. First, Korea's cooperation strategy with Africa should be segmentalized to reflect the different demands of Africa's sub-regions and fields (topics) of cooperation. India has recently increased its level of cooperation with Western and North Africa, along with the southeastern African region where the Indian diaspora are most populated. India also tailors its strategy to respond to the demands of Africa. For example, PAEN supports the AU's mission to strengthen connectivity within Africa. The Indian government also uses the CII-EXIM Bank Conclave as a platform to gather information on Africa's market demands and engage the Indian private sector in meeting Africa's needs. In terms of identifying competitive fields of cooperation, India actively emphasizes its strength as an IT powerhouse in forming cooperation platforms with Africa. Although the Korean Ministry of Strategy and Finance, Ministry of Foreign Affairs, and the Ministry of Trade, Industry and Energy each hold high-level forums with Africa, a coordinated and specific strategy and actionable programs have not fully materialized. With different market characteristics and cultural norms, different strategies should be articulated for the different sub-regions and economic communities such as COMESA, SADC, and ECOWAS. Moreover, many of Korea's cooperation programs share and build on lessons from Korea's past development experience. However, Korea should also be able to create programs in areas that it has strengths in such as mobile and online finance, entertainment, and ICT.
In addition, Korea should also create and strengthen a chain for cooperation with Africa. Currently, much of Korea's cooperation with Africa is development-oriented. However, in consideration of Africa's resources and its market potential, Korea should engage in strengthening trade and investment, and also enhance partnerships with the private sector. India's cooperation model exemplifies how the government can efficiently support market demands identified by the private sector. Areas of cooperation identified at the CII-EXIM Bank Conclave are linked and supported by the government through public initiatives such as the IDEAS and ITEC. Creating a chain of partnership between the private sector and the government as such, could increase policy effectiveness. Strengthening and coordinating the activities of KOICA, KOTRA and KITA would be a step in building this chain of cooperation.
Finally, the study proposes triangular cooperation between Korea, India and Africa. India is emerging as a global production hub and is increasing its influence in the global supply chain. India's market value and the government's policies supporting the nurturing of the manufacturing sector have enhanced the linkage between Korean-Indian production networks, while an increasing number of Korean firms are entering India for both production and export purposes. India is a key partner of the African Continental Free Trade Agreement (AfCFTA), and vigorously supports systems such as the Production-Linked Incentive (PLI) scheme that encourage domestic production and export expansion, enabling the formation of a Korea-India-Africa value chain. In order to do so, increasing the production link between Korea and India is required through negotiations on improving the Korea-India CEPA and the Korea-India Joint Initiative, as well as increasing trade links by supporting cooperation on the automation of customs.
Sales Info
Quantity/Size, Sale Price

| | |
| --- | --- |
| Quantity/Size | 139 |
| Sale Price | 7 $ |