Working Papers
Working Papers
To list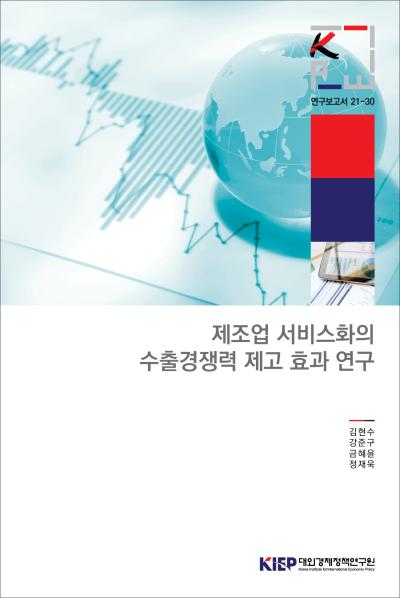 The Export Effect of Servitization in Manufacturing
Trade policy, Industrial policy
Author Hyunsoo Kim, Jungu Kang, Hyeyoon Keum, and Jae Wook Jung Series 21-30 Language Korean Date 2021.12.30
This study examines the status and characteristics of Korea's servitization of manufacturing and its impact on corporate performance and exports. In particular, we focus on the phenomenon that manufacturing companies produce more services as final goods and provide them to the market with products. The main results derived from this study are summarized as follows.
First, the proportion of service sales in the total sales of manufacturing companies increased significantly, albeit gradually between 2012 and 2019. Service sales, which stood at 4.5% of the total sales of manufacturing companies in 2012, surged to 15.9% in 2017, and then decreased to 6.9% in 2019. Also when the rate of servitization, which is the proportion of service sales out of total sales for each individual company, was calculated and examined by distribution, it was found that the distribution of the servitization rate increased at the most positive level in 2019 compared to 2012. However, it was found that many manufacturing companies had no service-related sales at all. Manufacturing companies with less than 50 employees are not included in the survey object of the "Survey of Business Activities", which is the key database of this study. Since small businesses with less than 50 employees showed a high servitization rate according to the previous studies, the distribution of the servitization rate may actually be more skewed toward zero than in reality.
We checked how servitization has progressed by industry by calculating the proportion of companies selling services. In general, the trend toward servitization in labor-intensive manufacturing such as food and beverage manufacturing, textile and clothing manufacturing, and wood/printing industry has decreased, while the trend toward servitization in capital- intensive manufacturing such as petrochemicals, electricity/ electronics and machinery manufacturing is higher in 2019 than in 2012. The transportation industry, including automobile, ship, railroad, aircraft and its parts industries, did not change significantly during the analysis period, and in particular, the distribution of servitization was found to be significantly lower than that of other industries.
Second, distribution service is the most major service business for manufacturing companies. Sales in distribution service by manufacturing companies accounted for about 74% of total service sales in 2012 and about 60% in 2019. This is interpreted as a movement by manufacturing companies to strengthen interaction with customers through expansion into distribution businesses such as the introduction and expansion of e-commerce or establishment of offline directly managed stores under a situation where product competition in the market is intensifying. In addition, professional and engineering service and R&D service, which manufacturing companies did not participate in much during 2012-14, are emerging as major businesses from 2015-16. However, this increase was found to be driven by specific industries, such as the manufacturing of electronic components, computers, images, audio, and communication equipment, and the manufacturing of chemicals and chemical products. It seems that it is due to the increase in the number of R&D activities of manufacturing companies becoming more active, and the provision of patents obtained through such activities to domestic and foreign companies.
Third, comparing Korea's status of servitization in manufacturing with major countries such as the US, Germany, Japan, and France, the proportion of companies generating service sales among the total manufacturing companies was somewhat lower than that of the US and Germany, but similar to that of Japan and France. Compared to major countries, companies generating service sales were concentrated in some industries such as computer, electronic, optical product manufacturing and mechanical equipment manufacturing. Also, it was found that most of the sales of service subsidiaries of Korean manufacturing companies were concentrated in the wholesale and retail industry. This is a characteristic of Korean manufacturing companies compared to companies in major countries such as the United States and Germany, which earned significant amount of sales from service subsidiaries not only in the wholesale and retail business, but also in ICT, financial service, and R&D service.
Fourth, we analyzed the effect of servitization, which is measured by service sales of manufacturing companies, on performance indicators such as profit rate, sales, and employment. We showed that servitization in manufacturing in Korea has a positive effect on both the profit rate and productivity of the company. It can be interpreted that in the recent trend toward servitization of manufacturing in Korea, the effect of increasing the productivity and profit rate of companies through servitization was stronger than the effect of intensifying market competition and lowering the profit rate due to servitization. On the other hand, when the long-term trend was controlled, causality between index related to the size of a company, such as employment or sales and servitization was not found.
Fifth, we examined the export effect of servitization in manufacturing by comparing companies which export both products and services with companies which export products only. It was found that service exports of manufacturing companies have a positive effect on overall exports. The export effect of servitization by industry is somewhat heterogeneous. In machinery and other manufacturing and computer, electronics, optics manufacturing, it was found that service exports significantly increase overall exports, whereas in automobile and transport equipment manufacturing, the coefficient estimate has a positive sign, but is not statistically significant. Compared to other industries, there were fewer companies in the automobile and transportation equipment manufacturing industry that show a high level of servitization. A small proportion of service sales to total sales means that the proportion of service exports is likely to be small, and it is likely that the export effect of servitization may not be evident due to relatively small service exports.
Lastly, we provide policy implications in Chapter 5 based on the findings above, such as △ designing manufacturing-service industry linkage activation policies by the level of servitization △ supporting development of business models from servitization and △ improving statistics in consideration of servitization.
Sales Info
Quantity/Size, Sale Price

| | |
| --- | --- |
| Quantity/Size | 194 |
| Sale Price | 7 $ |