Working Papers
Working Papers
To list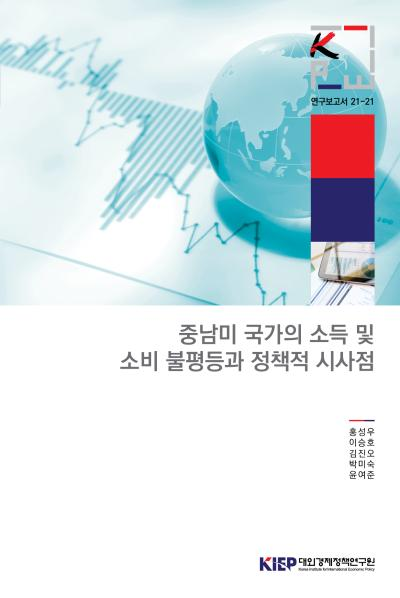 Income and Consumption Inequality in Latin America and Policy Implications for South Korea
Economic cooperation, Labor market
Author Sungwoo Hong, Seungho Lee, Jino Kim, Mi Sook Park, and Yeo Joon Yoon Series 21-21 Language Korean Date 2021.12.30
This study analyzed income and consumption inequality in Chile, Mexico, and Brazil. The motivation for this study is the recent massive protests in Chile and Colombia. The protest in Chile, which began in October 2019, were sparked by 30 Chilean peso increase in subway fare and led to enacting a new constitution in progress. In Colombia, the uprising occurred as people protested against the tax reform bill announced by President Ivan Duque in April 2021.
Why is it necessary to examine income and consumption inequality in Latin American in which a variety of social inequalities, including income inequality, have always been perceived as severe? Have the inequalities in Latin America changed significantly over time? The main goal of this study is to answer to these research questions.
Chapter 1 describes why a research on income inequality in Latin America is necessary. First, there are not many existing studies that have investigated the inequality of individual countries in Latin America because a number of experts have already recognized the inequality in Latin America as a serious social problem and tend to consider it constant. Second, previous studies have not examined diverse indicators related to the inequality and thus have failed to provide accurate information on the inequality of each country. Third, it is meaningful to analyze income inequality in Latin America since the inequality and economic conditions could be critical variables in forecasting future regime change in the region.
Chapter 2 examines inequalities in various sectors in Latin America. In general, indigenous people are recognized as the most economically and socially vulnerable class. They are likely to live in areas with poor transportation, and thus access to public education is difficult. The tax systems of Latin American countries are too dependent on indirect taxes rather than direct taxes, and thus is regressive. There is a large gap in welfare spending among Latin American countries.
In Chapter 3, the determinants of income inequality were analyzed using micro data provided by Chile, Mexico, and Brazil, and then the outcomes were compared. As a result, the income of women in these three countries was lower than that of man, despite controlling for other explanatory variables. The income gap between men and women was the lowest in Chile and the highest in Brazil; the income gap gradually narrowed in Brazil, whereas there was no significant improvement in Chile and Mexico. In addition, rural residents had lower income than urban residents in Mexico and Brazil; in Chile, residents in Santiago had lower income than residents in the other regions.
Chapter 4 investigates the consumption poverty rate and consumption inequality in order to accurately grasp income inequality in Chile, Mexico and Brazil. In Chile, it was shown that a pattern of income inequality was different from that of consumption inequality, as the consumption inequality was mitigated while the income inequality worsened. These findings suggest that the low-income group may have been facing considerable financial hardship because they could not have decreased their expenditure while their income decreased. In Mexico, trade liberalization in the late 1980s and the entry into force of NAFTA in 1994 markedly reduced consumption poverty rates and consumption inequality. In Brazil, all the indicators of income and consumption inequalities improved over time.
Chapter 5 looks into poverty and inequality in Latin America during the COVID-19 pandemic and policy efforts of each country to alleviate these. Due to the contraction of economic activity caused by the pandemic, the middle income class experienced a decrease in income, resulting in falling into poverty. This middle income group suffered from economic hardship because many of them working in the informal sector were not able to benefit from social welfare programs. However, emergency cash aid programs for the workers in the informal sector and the self-employed have mitigated the economic damage to them.
This study contributes to existing researches in terms of that this study provides policy implications for the Korean government and firms. First, establishing e-government in Latin American countries could be considered as a KSP (Knowledge Sharing Program) project. Since workers in Latin America are likely to avoid tax, the establishment of e-government can contribute to securing additional tax revenues. Thus, it is expected that Latin American countries could demand the project.
Second, Korean firms need to seek to enter the market of Latin America through DIP (Development Innovation Program) operated by KOICA. Improving educational attainment or human capital of the low-income group is a fundamental alternative to alleviating income inequality; therefore, the firms could particularly seek to enter the education sector through the DIP.
Sales Info
Quantity/Size, Sale Price

| | |
| --- | --- |
| Quantity/Size | 256 |
| Sale Price | 10 $ |