Working Papers
Working Papers
To list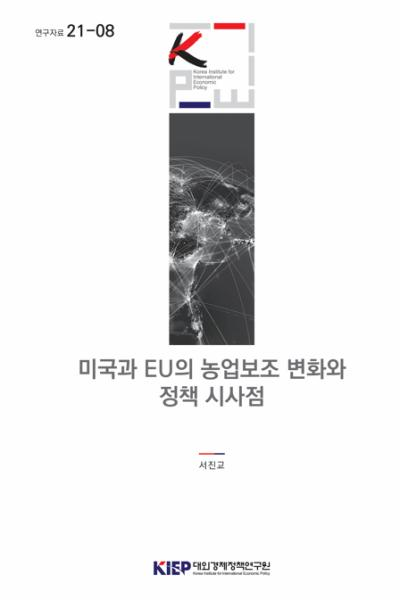 Trade–Distorting Subsidies of the U.S. and the EU: What Can We Learn?
Multilateral negotiations, Trade policy
Author Jin Kyo Suh Series 21-08 Language Korean Date 2021.12.30
The Uruguay Round's Agreement on Agriculture (AoA) categorized "domestic support" according to its presumed effect on trade. Subsidies that were deemed to be "trade distorting" were subject to limits specified in member schedules. Domestic agricultural policies have been radically reformed in a number of countries, including the U.S. and the EU (European Union). This reform has been in the direction of reducing reliance on price supports in favor of direct payments.
Both the U.S. and the EU have found ways to adjust policy instruments to appear to show trade-distorting support reduction even when incentives to producers are maintained. In fact, both countries had significantly reduced their trade-distorting supports (TDS) from the initial stage of agricultural subsidies reduction. For example, the TDS of EU decreased to 10.4 billion Euro in 2012 from 73.4 billion Euro in 1995, which is almost 86 percent reduction. Similarly, the TDS of the U.S. shows the continuous declining trend during the period of 1999~2008, $ 24.3 billion in 1999 to $8.5 billion in 2007.
However, there was a sharp reversal in this decreasing trends of the trade-distorting agricultural subsidies during the period of 2010~2019. Both economies started to increase, at least maintain their TDS level from around 2008~2010. As a result, EU's TDS increased in recent years from 11.0 billion Euro in 2010 to 11.8 billion Euro in 2018. Particularly, the TDS of the U.S. significantly was increased by 2.2 times, from $ 15.6 billion 2008 to $ 34.6 billion in 2019. What happened in both economies during the last decade?
A close look to 25 years-historical data of agricultural subsidies in both countries shows very interesting aspects in terms of the reduction behavior of agricultural subsidies for the United States and the EU. Both countries would not reduce their TDS on certain agricultural products, which are regarded as 'very sensitive' goods in the viewpoint of their domestic politics: wheat, cotton, bananas, and grapes for wine in the EU and soybean, corns, cotton in the United States.
It is also interesting that those sensitive products generally have a wide and huge harvested area in both economies. Wheat accounts for 45 percent of total grain production in the EU. Similarly, corn also account for 40 percent of total harvested area of grains in the United States. Thus, we can think about the possibility of connections between those sensitive products and rural society or rural communities that wheat or corn is mainly produced. In other words, the TDS for such sensitive products could be related to the non-trade concerns or non-economic role of agricultural production, which the AoA has already admitted the importance of it. For example, agricultural production can be a necessary condition in the rural development policy. Even if farm household income is guaranteed, if a certain amount of agricultural production is not achieved, living conditions in rural society will deteriorate unless the area is fully urbanized. It can be, therefore, said that it is necessary to maintain a certain agricultural production in the relevant area due to the introduction of sustainable rural and environmental policies along with agricultural subsidy policy.
If this is true, then this finding has very meaningful implications on the reform of world agriculture as well as WTO agricultural negotiations, including future directions for agricultural subsidy policies of Korea. First, until now, prevailing view has been that the TDS such as price supports or deficiency payments should be reduced because they distort agricultural trade. However, from the subsidy policy experience of both the U.S. and the EU during the last two decades, we can infer that the certain TDS for sensitive products such as wheat in the EU or corn in the U.S., may be deeply related to the maintenance and development of rural communities from. This conjecture raises the question of whether certain flexibility should be allowed in some cases, rather than viewed as a bad subsidy that must be reduced unconditionally. That is, it is necessary to take a flexible view that some degree of flexibility can be granted in some subsides, even though they are related to agricultural production. At the same time, we need to have a question that the various non-economic roles of agricultural production have not been adequately addressed. In this respects, it is necessary to change the existing perspective on the TDS related to agricultural production, especially the TDS related to maintenance and sustainable development of rural area.
Second, if there is a change in the existing uniform view of production-related subsidies, this may affect the current WTO agricultural subsidy discussion. It can be a step-stone to discuss how such TDS can be subject to the green box that is exempt to reduction commitments.
Third, we can utilize our finding as a good leverage in the bilateral negotiations with the EU or the U.S. For example, we easily expect that the U.S. is primarily interested in exports of soybeans and corn, and also will have a deep interest on protecting cotton and sugar. Therefore, we can think of a strategy to protect our sensitive products by appropriately satisfying the U.S.' request for the item of interest or by requesting ambitious market opening for cotton or sugar.
Finally, Korea's agricultural subsidy policy is expected to change from the TDS to a permissible green box subsidy policy. It is true that such a policy centered on green box subsidies is desirable in that it is market-friendly and has high transparency. However, as we saw at the subsidy reduction of the US and EU, it is necessary to properly utilize subsidy policies directly linked to agricultural production or prices, if necessary in the transition to green box subsidies from the TDS. The view that production-related subsidies are a problem is from the point of view of economic efficiency, and some TDS may be positive enough from the perspective of a non-trade concerns of agriculture.
Sales Info
Quantity/Size, Sale Price

| | |
| --- | --- |
| Quantity/Size | 94 |
| Sale Price | 5 $ |