Working Papers
Working Papers
To list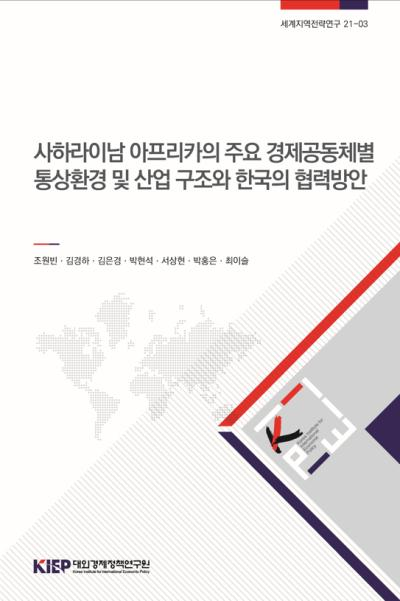 Trade Environments and Industrial Structures of the RECs in Sub-Saharan Africa and South Korea's Cooperation Plans
Economic integration, Economic cooperation
Author Wonbin Cho, Kyung-Ha Kim, Eun Kyung Kim, Hyeon Seok Park, Sang-Hyun Seo, Hong Eun Park, and Eseul C Series 21-03 Date 2021.12.30
The purpose of the paper is to analyze the current status of Regional Economic Communities (RECs) in Africa, focusing on industrial and trade environments, and to find out strategies and cooperation plans for South Korea to enter into the African emerging market.
Do the African RECs work as a driving force for the economic growth of African countries and income convergence among member states in the region? Also, would RECs' efforts to pursue regional integration make African countries catch up with developed countries? In response to these questions, our result shows that intra-trade is practically active compared to offshore trade in the case of COMESA, EAC, ECOWAS, and SADC. Regarding this, the Dispersion Index analysis confirmed that all those 4 RECs member countries have a higher level of homogeneity with production and export structure in trade among member countries than with non-member countries. It is expected that such progress in production and trade structure homogenization among member states could help the economic growth of the African continent and resolve regional income disparity.
In addition, the results of the gravity model suggest a direction for the trading strategy of the Republic of Korea to increase trade with African countries in the future. First, it is necessary to expand trade relations, focusing on countries with as large an economy as possible within the African RECs. Since trade among member states within each REC is actively taking place, South Korea should strengthen the cooperation with countries with large trade volumes and power to a spillover effect. Second, South Korea needs to expand trade relations with African counties that have high levels of democracy. The result of the gravity model empirically shows that African countries with relatively higher levels of democracy tend to be more active in international trade engagement. This finding seems because, with higher levels of democracy, the country tends to be more concerned with economic policy outcomes and relatively have a higher government quality. Although most African countries have small economies, some have rich natural resources such as water, forest, mineral, and oil. So, RECs is pursuing a development strategy to enhance intra-trade by fostering leading trade partner countries. Moreover, they have an effort to promote sustainable and inclusive economic growth by achieving strategic outcomes like expanding regional infrastructure, modernizing transportation systems head to landlocked countries, establishing an integrated resources management system.
This paper suggests ideas for Korea-Africa cooperation and the Africa expansion strategy of Korea through RECs as the central axis of regional development and promoting trade in the African continent. We selected two major cooperation partner countries (one for a significant cooperation partner country and one for a country with high potential) each for the four RECs and analyzed the selected eight countries' national development strategies and industry and trade structure. Based on the analysis, we presented the industrial and investment sectors that would cooperate and specific items to increase trade with South Korea. We selected the following eight countries. The former is, in each RECs, a significant cooperation partner country, and the latter is a country with high potential. 1) Egypt and Ethiopia in COMESA; 2) Kenya and Tanzania in EAC; 3) Nigeria and Ghana in ECOWAS; 4) South Africa and Angola in SADC.
Recently, the role of the RECs has been growing in terms of regional integration and economic development strategies in the African continent. In particular, the African Continental Free Trade Area (AfCFTA), which is evaluated as the largest free trade area of the world, officially opened on 1 January 202l, African countries' trade and investment with other African countries and with international economies is expected to significantly increase. In turn, South Korea needs to develop a new and effective trade strategy toward Africa. As the movement of regional economic integration with the AfCFTA opening is about to be more active, it is necessary for South Korea to develop a multilateral cooperation model based on the critical role of African RECs.
Sales Info
Quantity/Size, Sale Price

| | |
| --- | --- |
| Quantity/Size | 200 |
| Sale Price | 10 $ |