Working Papers
Working Papers
To list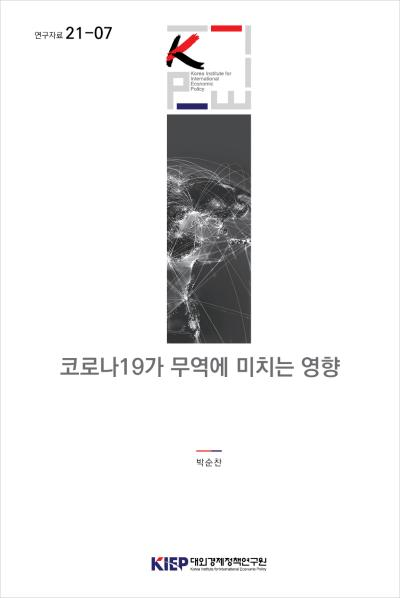 Analysis of Economic Effects of the COVID-19 Pandemic on Global Trade
Trade structure, Trade policy
Author Soon Chan Park Series 21-07 Language Korean Date 2021.12.30
Although many studies have documented that financial and political crises are associated with severe recessions, little attention has been paid to pandemic crises. Furthermore, they focus on estimating the effect of the crises on economic growth and unemployment, but not on trade. With deepening global value chains, the growth of trade exceeds that of GDP, and countries are increasingly exposed to foreign risks or shocks. International trade therefore is no more derived transactions but a crucial factor driving economic growth. This paper makes progress understanding the economic effects of the Covid-19 by investigating the impact of the previous 21-century pandemics and the Covid-19 on trade.
To study how long the negative effects of the pandemics persist, we also estimate the effect of these health crises on trade, both in the onset year of the crisis as well as the dynamic effects over time. An another important question on the economic effects of the pandemics is whether pandemics are demand shocks or supply shocks. This is a fundamental question for both economists and policymakers, because it helps design effective policy responses to future health crises. Yet there were few evidence-based arguments based on similar events in the past.
Our findings are as follows:
First, we find a larger negative impact of the severity of the Covid-19 on bilateral exports, implying that effective prevention and control measures for pandemics do matter not only for human life, but also for economic performance. The severity of the Covid-19 is measured by the mortality rate, death cases per 1000 population and confirm cases per 1000 population. It reveals that each of them serves as a good proxy variable for the severity of the Covid-19.
Second, we find that ICT development contributes to mitigate negative effects of the Covid-19 on exports. The Covid-19 and resulting public health measures necessitated many workplaces to permit workers to work from home. We test the hypothesis that the productivity of remote working depends on the ICT development, and this leads to better export performance.
Third, we find that the previous 21-century pandemics including SARS, H1N1, MERS and Ebola are a supply shock resulting in the reduction in exports of final goods, but leaving exports of intermediates inputs largely unchanged. These results imply that consumers in importing countries substitutes the final goods from non-affected countries for those from affected countries, but the inputs souring decisions of firms are not affected by the pandemics.
Fourth, we find that it takes at least 4 years for the negative effects of the pandemics on trade to disappear, identifying the dynamic effects of the pandemics.
Based on our empirical findings, finally, we discuss some policy implications for mitigation of economic damage, protection of business from destruction and facilitating recovery.
Sales Info
Quantity/Size, Sale Price

| | |
| --- | --- |
| Quantity/Size | 80 |
| Sale Price | 5 $ |

공공저작물 자유이용허락 표시기준
(공공누리, KOGL) 제4유형
대외경제정책연구원의 본 공공저작물은 "공공누리 제4유형 : 출처표시 + 상업적 금지 + 변경금지" 조건에 따라 이용할 수 있습니다. 저작권정책 참조