Policy Analyses
Policy Analyses
To list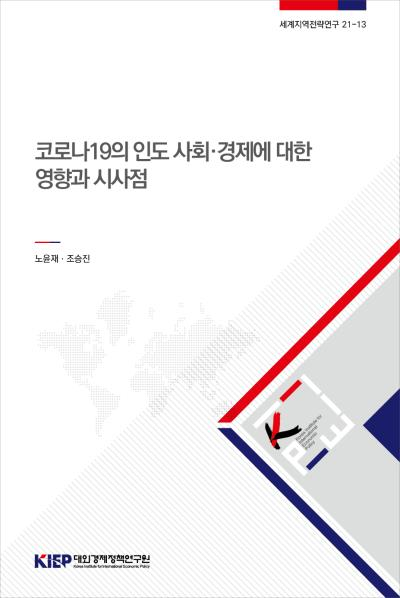 The Social and Economic Impact of Covid-19 in India
Economic cooperation, Labor market
Author Yoon Jae Ro and Seung Jin Cho Series 21-13 Language Korean Date 2022.05.27
The Covid-19 pandemic led to significant reductions in economic activity across the world. In India, the Covid-19 pandemic has also created unprecedented disruptions in the labor market including employment loss and a decline in incomes. Furthermore, the Covid-19 pandemic is having unequal impacts on the consumption of Indian households.
In this paper, we investigate the impact of the Covid-19 pandemic on Indian households. We examine the impact of lockdown measures that India imposed during the first and second years of the pandemic. The first lockdown in India was from March 25th, 2020, to May 31st, 2020, which was considered the longest lockdown during the Covid-19 pandemic. The second lockdown was from April to June 2021. We focus on the differential impact of these shocks on employment, income, and consumption, using data from a large household panel survey.
Firstly, we observe large and heterogeneous reductions in employment and income in formal and informal segments of the labor market in India. Informal wage workers were significantly more vulnerable to the loss of employment than formal workers during the lockdown. Furthermore, income declined significantly more for the households of the informal wage worker. There was a differential impact of the shocks on labor market outcomes for male and female workers. We find that women were more likely to lose employment during the lockdown, and more likely to not return to work subsequently post the lockdown relative to men.
Second, we document the impacts of the lockdown on household consumption. We find that consumption decreased the most for the households with initially higher pre-pandemic income. Also, this group has the slowest recovery rate to the pre-pandemic consumption level. For all households, the consumption of food and fuel dropped less than the consumption of durables.
When the labor market fluctuates rapidly due to the economic downturn, the harm is relatively concentrated on the low-income and vulnerable groups. This study shows the Covid-19 pandemic caused great economic damage to women and informal workers, who are the most vulnerable groups in India.
Sales Info
Quantity/Size, Sale Price

| | |
| --- | --- |
| Quantity/Size | 84 |
| Sale Price | 5 $ |