Policy Analyses
Policy Analyses
To list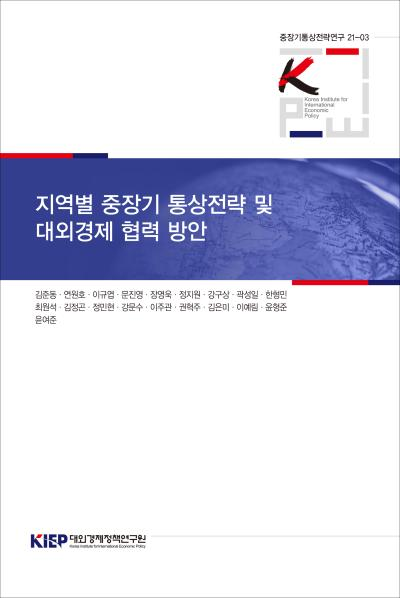 Korea's Medium- and Long-Term Trade Strategies by Region and International Economic Cooperation Plans
Economic cooperation, Trade policy
Author June Dong Kim, Wonho Yeon, Kyu Yub Lee, Jin-Young Moon, Youngook Jang, Jione Jung, Gusang Kang, Sung Series 21-03 Language Korean Date 2021.12.31
This study seeks to identify Korea's cooperation directions with major regions and present action plans to implement them in five medium-to long-term trade issues: global supply chains, digital trade, climate change, health, and development cooperation.
In the area of global supply chains, Korea and the U.S. could promote predictability and sustainability through periodic exchanges of information between the respective control towers of supply chains in the two countries, and the utilization of various consultative bodies composed of diverse agents related to supply chains. In the long-term perspective, we need to implement exchange programs of personnel and joint R&D programs in the areas of advanced technologies of the two countries in order to cultivate talented persons in the key industries.
The EU and Korea could reinforce the connectivity of their supply chains through cooperation in the areas of technology and production in such strategic industries as telecommunication infrastructure. In addition, when considering the global expansion of low-carbon economy initiatives, Korea needs to closely cooperate with the EU, which is preemptively adjusting its supply chains under a green economy concept.
With regard to China, it is anticipated that Korea will have no choice but to cooperate in areas where China and the U.S. share values, or in areas where the U.S. does not show interest in, for a considerable period of time. More specifically, cooperation can be possible in the areas of green industries, the health sector, and those with matured technology. Regionally, Korea needs to pursue cooperation with China in supply chains in third countries, rather than within China.
In the New Southern Region, above all, Korea should pursue diversification of supply chains within the ASEAN region by utilizing changes in the trade and investment environment due to the RCEP, the CPTPP, and the ASEAN Economic Community. Korea also needs to upgrade its CEPA with India to secure smooth movement of intermediate goods between Korea and India. Additionally, Korea needs to expand cooperation with India utilizing the EDCF, particularly in light of the demand within India to establish various infrastructure such as renewable energy and roads.
In the area of digital trade, two directions of cooperation with key countries and regions can be outlined as follows. First, Korea should strengthen medium-to long-term cooperation with leading economies such as the U.S. and the EU in digital infrastructure, digital technology, digital technological standards, and data regulation. Second, in places where need for digital infrastructure is increasing, such as China, the New Southern Region, and Africa, unique and specialized digital trade policies should be established.
To be more specific, in order to strengthen cooperation with the U.S. in digital technology, Korea needs to encourage its domestic firms to join in the O-RAN Alliance. Furthermore, in order to foster technological cooperation in the field of AI, Korea should facilitate discussions about the development of international AI standards through the already existing Joint Committee on Science and Technology Cooperation between Korea and the U.S. Korea also needs to begin discussions to maintain technical standards cooperation by forming a Korea-EU Committee on digital technology like Trade and Technology Council between the U.S. and the EU. In terms of data regulation, Korea must take a proactive role together with the U.S. in WTO e-commerce talks. This study also suggests that the e-commerce chapter that was not addressed during the negotiation of the KORUS FTA amendment should be upgraded in the near future. Efforts will also be vital to keep complying with the EU's GDPR requirements.
Regarding digital infrastructure cooperation with major countries and regions such as China, the New Southern Region, and Africa, Korea should undertake action plans in conjunction with domestic policies such as K-semiconductor strategies and materials, components, and equipment strategies. Meanwhile, it is critical to develop a venue to discuss digital technology and data regulatory cooperation with China and the New Southern Region. Korea could benchmark the cooperation in the area of standards between Japan and China in 2019. This platform can help to improve the compatibility of digital technology and goods in key areas specified by the Northeast Asia Standards Cooperation Forum.
Aside from digital infrastructure, digital technology, digital technological standards, and data regulation, Korea must seek specific cooperation plans for major countries and regions. For example, Korea can develop policies to increase intellectual property protection in relation to China. Furthermore, it can assist domestic digital trade firms in entering the Comprehensive Testing Region for Cross-Border E-commerce designated by the Chinese government. Korea also needs to conduct discussions with China to facilitate customs issues in e-commerce. In the New Northern Region, Korea should maintain cooperation with Russia in the field of digital services and software, with both countries developing research initiatives and expanding training programs for young researchers. In the New Southern Region, Korea can concentrate its capabilities for cooperation on SMEs and workers to strengthen the digital infrastructure. Establishing preemptive collaboration channels for digital trade between Korea and India would benefit both countries. In Africa, Korea should pursue digital trade policies targeted to the growing need for digital infrastructure, digital technology, public services, and labor force development.
In regard to climate change, Korea should promote cooperation in such industries as energy transformation and transportation, areas where the EU is also focusing on within its carbon neutrality policy, as well as facilitate the dialogue channel of cooperation with the EU to back up this promotion. Korea also needs to maintain its position in the follow-up discussions to implement the Paris Climate Agreement while communicating closely with the EU.
In the area of low carbon technology cooperation with the U.S., technological cooperation related to clean energy initiatives, energy efficiency, and carbon removal – which both countries share common interests and are competitive in – could be promoted first. In addition, Korea can also suggest cooperation in areas where the U.S. has global competitiveness, such as adaptation to climate change.
In order to identify cooperation areas and facilitate multilateral cooperation with the New Southern Region, Korea needs to identify the policy interests and current status of dialogue channels in this area. With ASEAN, Korea needs to continue utilizing dialogue channels such as the Korea-ASEAN Dialogue on Environment and Climate Change. With respect to India, Korea needs to establish a regular high-level dialogue channel and identify specific cooperation demands.
In the area of health cooperation, Korea needs to overcome the limits of existing international cooperation systems by establishing new international organizations such as an international pandemic treaty. This new organization will have the function of assisting production of vaccines, therapeutics, and equipment for diagnosis and personal protection as well as establishing more effective distribution systems for medicine and medical supplies.
In order to respond more effectively to the crisis of infectious diseases in the future, it will be necessary to amend the related provisions within WTO agreements, since the production and distribution of medical supplies lies also in the area of international trade. More specifically, particular situations or conditions will have to be defined when the relevant TRIPS clauses can be exempted.
The fundamental solution to the pandemic is technological innovations in the area of medicine manufacturing and increase of production amounts. In this context, Korea should place more of an emphasis on its current project to establish a global vaccine hub. A cooperation system must be established to co-utilize personnel and facilities through a consortium with companies in the U.S. and Europe.
With regard to development cooperation in Asia, the need to differentiate cooperation types, methods and areas has already been pointed out. As a specific action plan, for example, Korea can cooperate with assisting ICT-based hybrid infrastructure projects such as smart city and smart water control to medium-income countries such as Vietnam, Indonesia, and Philippines. Meanwhile, to low-income countries such as Laos and Myanmar, assistance should be provided to establish basic social infrastructure mainly in the form of ODA.
For development cooperation with the African region, systematic cooperation among the ODA-implementing entities is crucial. A good example is the Muhimbili University Hospital project in Tanzania. Korea could also consider promoting utilization of development finance, for the purpose of supporting private sector development in the region.
In the Latin American region, Korea should explore plans to participate in large-sized energy projects by co-financing with the MDBs, since such countries as Columbia, Peru, and Bolivia are currently pursuing energy transformation initiatives.
Sales Info
Quantity/Size, Sale Price

| | |
| --- | --- |
| Quantity/Size | 336 |
| Sale Price | 12 $ |

공공저작물 자유이용허락 표시기준
(공공누리, KOGL) 제4유형
대외경제정책연구원의 본 공공저작물은 "공공누리 제4유형 : 출처표시 + 상업적 금지 + 변경금지" 조건에 따라 이용할 수 있습니다. 저작권정책 참조