Policy Analyses
Policy Analyses
To list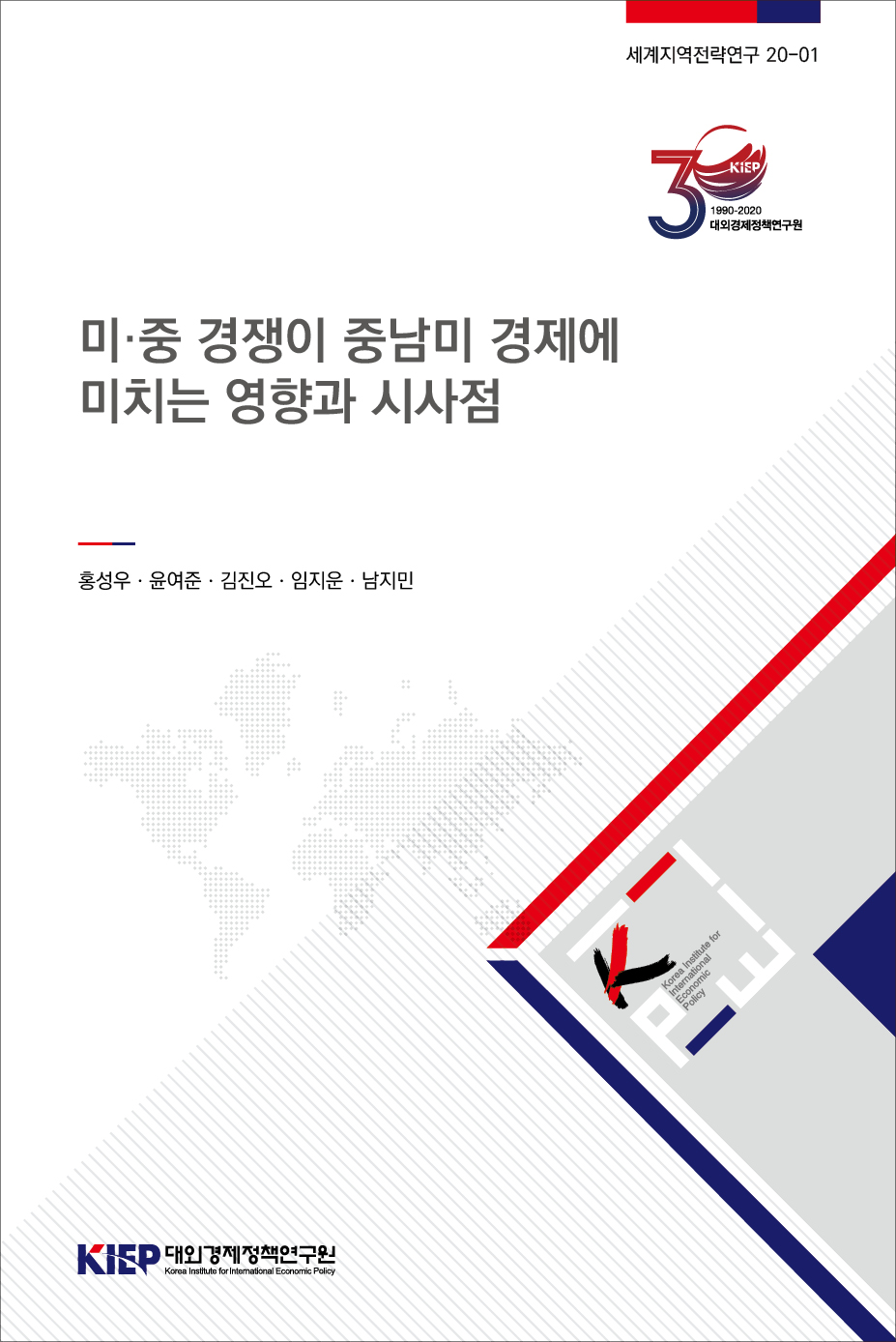 An Effect of US-China Rivalry on Latin America and Its Implication
Economic relations, International politics
Author Sungwoo Hong, Yeo Joon Yoon, Jino Kim, Jeewoon Rim, and Jimin Nam Series 세계지역전략연구 20-01 Language Korean Date 2020.12.31
Conflicts between the United States and China have been appearing in various forms across many regions; it can be seen in trade, commerce, politics, and diplomacy. In addition, it is likely that the conflicts between the two countries intensify as the multilateralism would be threatened and protectionism would emerge in the post-COVID 19 era.
Latin America is not an exception to this issue of the US-China conflict. In terms of national security, the United States has only option to react sensitively to the growing influence of China in Latin America, considering the geographical proximity between the United States and Latin America. For this reason, varied conflicts between the United States and China occur in Latin America.
This study investigated the patterns of US-China rivalry that appeared in Latin America and analyzed the effects of this rivalry on Latin American countries in multifaceted ways. In Chapter 2, we examined how the US and Chinese foreign policies against Latin America have changed. Furthermore, we summarized specific policies against Latin America that were implemented under the Trump administration. The fundamental goal of the US policy was to occupy a regional hegemony in Latin America by giving them incentive and pressure. In particular, the Trump administration tended to weigh on Latin America in many sectors such as immigration, infrastructure, and so on. By contrast, Chinese policies against Latin America aim at maintaining cooperative relations with Latin America in the absence of specifics.
In Chapter 3, we presented several examples of the US-China conflict that were observed in Latin America. This conflict was mostly prominent in the infrastructure sector, in which the United States was likely to press Latin America in order to exclude China from related projects.
In Chapter 4, we conducted an empirical analysis by focusing on the trade dispute between the United States and China that occurred in 2018. Specifically, we analyzed the impact of the retaliatory tariffs between the two countries on exports of major Latin America countries to United States and China. In addition, we complementarily examined the effect of the trade dispute on the welfare of the Latin American countries with the CGE (Computational General Equilibrium) model. As a result of the empirical analysis, Brazil's export to China have increased significantly since the imposition of the tariffs, and then the effect has disappeared over time. In contrast, there was no consistent pattern for countries other than Brazil. The impact of the US-China conflict on the welfare of the countries in Latin America was trivial.
The conflict between the United States and China that occurs in Latin America could be an opportunity for Korean companies that seek to advance into Latin America. The companies may be given an unintended chance as Latin America is faced by US pressure to rule out China from infrastructure sector. Therefore, it would be important to monitor the political position of Latin American countries in terms of seeking opportunities to enter Latin America in the future.

Sales Info
Quantity/Size, Sale Price

| | |
| --- | --- |
| Quantity/Size | 140 |
| Sale Price | 7 $ |