Policy Analyses
Policy Analyses
To list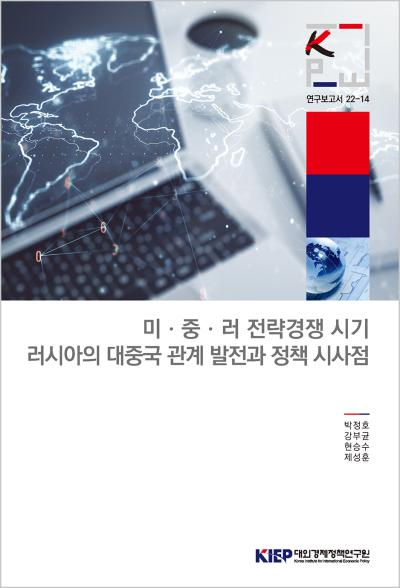 Russia's Relations with China in the Era of US-China-Russia Strategic Competition
Economic relations, 경제안보
Author Joungho Park, Boogyun Kang, Seung-soo Hyun, and Sung Hoon Jeh Series 22-14 Language Korean Date 2022.12.30
This study comprehensively examines the development of Russia's strategic relationship with China amid intensifying strategic competition among the United States, China, and Russia. Specifically, we analyze the basic meaning and direction of Russia's strategy toward China in the process of shaping a new global order, and the key features and characteristics of cooperation between the two countries in a wide range of fields spanning politics, diplomacy, security, military, economy, society, and culture. Accordingly, this research seeks to derive useful policy implications for Korea based on evaluation of the direction and level of Russia-China cooperation from the Russian perspective.
This study consists of four major chapters. Chapter 2 examines the background and strategic significance of Russia's political, diplomatic, and security relations with China. The deterioration of US relations with China and Russia, which is currently progressing at the global level, is acting as a decisive factor pushing Russia and China closer to each other. In order to grasp the dynamics of US- China-Russia relations and Russia's perception of the international order, we seek theoretical and historical approaches to the strategic triangle relationship, while examining the possible formation of a new type of triangle relationship. Based on this, the chapter describes Russia's perception of China and its policy direction, as well as the evaluation and prospects of Russia-China relations.
Chapter 3 analyzes the background and strategic significance of Russia's economic, trade, and industrial relations with China. First, Russia's perception of economic security and the background of deepening economic relations with China are comprehensively identified. In particular, we examine the opportunities and constraints associated with Russia-China cooperation in the fields of advanced technology, energy, and finance, which are key strategic areas for strengthening Russia's economic security in the face of intense Western sanctions against its economy.
In Chapter 4, the development process and strategic significance of Russia's social and cultural relations with China are examined. To this end, we explore the current status and characteristics of cooperation in the fields of education and research, culture and arts, mass media, tourism, sports, and healthcare.
Chapter 5 concludes with a summary of the main research contents and presents policy implications for Korea. In particular, promising directions and tasks for the Northern Policy are suggested, as it faces a major turning point in the changing external environment. These include establishing a cooperative environment for stable management of Korean Peninsula issues, creating a cooperative model to secure external status as a "pivotal middle power," setting national interests at a strategic level, and raising social awareness of the strategic value and importance of the northern region, etc.
Sales Info
Quantity/Size, Sale Price

| | |
| --- | --- |
| Quantity/Size | 220 |
| Sale Price | 10 $ |

공공저작물 자유이용허락 표시기준
(공공누리, KOGL) 제4유형
대외경제정책연구원의 본 공공저작물은 "공공누리 제4유형 : 출처표시 + 상업적 금지 + 변경금지" 조건에 따라 이용할 수 있습니다. 저작권정책 참조