Policy Analyses
Policy Analyses
To list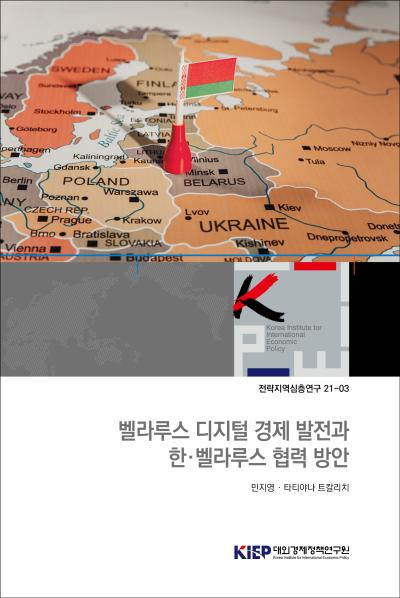 Digital Economic Development in Belarus and Implications for Korea-Belarus Cooperation
Economic development, Economic cooperation
Author Jiyoung Min and Tatyana Alekseevna Tkalich Series 21-03 Language Korean Date 2021.12.30
Belarus is facing economic challenges due to low efficiency, caused by structural problems. One solution could likely be found in ICT and digital development. Based on this observation, this study analyzes Belarus's structural problems and challenges, recent trends and major features of the ICT industry, and the level of digital development.
The Belarusian economy has been experiencing a low growth rate since 2009. This is mainly because the share of the public sector and the dependence on the Russian economy are still high. The Belarusian government has made efforts to raise economic efficiency since the 1990s through non-market economy oriented measures. Naturally, there has been little progress.
Meanwhile, the government's drastic policies to develop the ICT industry have been the most outstanding successes. The ICT industry in Belarus is one of the most promising sectors in the economy, accounting for almost 8% of the GDP in 2019. According to the digitalization index and the authors' own calculation of DESI, Belarus has potential for and is in the initial stage of digital economic development.
In order for Belarus to realize the digital economic development, it urgently needs to increase the use of ICT in other industries, retrain persons who are in charge of digital affairs in organizations, establish relevant institutions, and construct a 5G network.
Considering what is mentioned above, the study suggests the following measures to strengthen Korea and Belarus cooperation.
In the short-term, Korea could 1) provide facilities for ICT education to the public and dispatch ICT trainer volunteers through ODA programs, 2) provide advice on digital policies and institutions, and 3) encourage Korean ICT companies to partake in Belarus's 5G network construction.
In the mid-term, Korea could systemize exchange programs and technological cooperation; 1) organize a Korea-Belarus joint committee on economy, science and technology and a Korea-Belarus forum on science and technology regularly, perhaps biannually, 2) invite businessmen and engineers in the Korea-Belarus forum on science and technology to form a triangular cooperation between the government, scholars and businessmen, 3) readjust the budget provided to joint research programs run by the Ministry of Science and ICT, and the Korea Research Foundation to produce actual joint research output.
To expand technological cooperation with developing economies, R&D and entrepreneurship programs should be established under ODA, EDCF, and KSP programs, to eventually build up a firm network between scholars and start-ups in the ICT sector in Korea and Belarus. Opening business incubators both in Korea and Belarus could also promote bilateral cooperation.
In the long-term, there should be institutional grounds for stronger and sustainable economic relations between Korea and Russia. The Bilateral Investment Treaty signed in 1997 could be reexamined and revised. Korea can consult and support Belarus's accession process to the WTO. Both countries can discuss "Korea-Belarus Service and Investment FTA," which can lead to a Korea-EAEU FTA or Korea-EAEU comprehensive FTA.
Sales Info
Quantity/Size, Sale Price

| | |
| --- | --- |
| Quantity/Size | 118 |
| Sale Price | 7 $ |