World Economy Brief
World Economy Brief
To list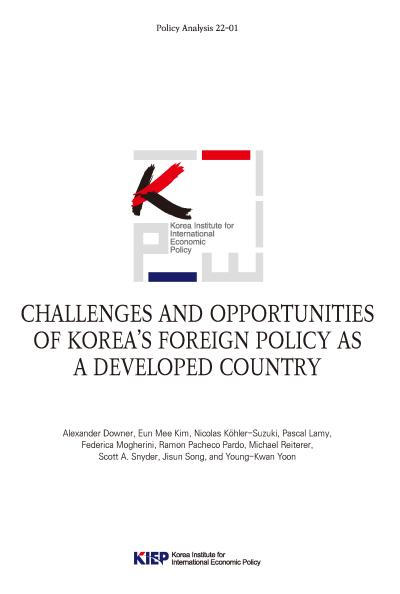 Challenges and Opportunities of Korea's Foreign Policy as a Developed Country
International politics
Author Alexander Downer, Eun Mee Kim, Nicolas Köhler-Suzuki, Pascal Lamy, Federica Mogherini, Ramon Pachec Series 22-01 Language English Date 2022.09.30
Despite the fact that China and the United States represent the G2 in terms of economic size, the RMB's international significance in the existing international financial system is limited. China has made significant progress in encouraging RMB internationalization. It has the ability to disrupt the global financial system, dominated by the US dollar. In order to seize chances under such circumstance, Korea must find a new direction for the internationalization of Korean Won.
This collective volume has seven independent papers that investigate the current and future status of the RMB internationalization and its impacts and implications on Korean economy. The summarizations of each paper are as follows: Chapter One explains the background and motivation of this collective volume. Also, it describes the current status of the Korean Won Internationalization. Chapter Two provides detailed descriptions of the current status of RMB internationalization and its future prospects. Chapter Three examines the performance of Shanghai and Seoul RMB-KRW direct foreign exchange markets and figures that such direct FX markets have not been fully developed yet. However, such markets are expected to become more efficient gradually. Chapter Four finds that in the gradual evolution of the RMB internationalization, the KRW is becoming more synchronized with the Chinese yuan. Chapter Five explores the factors for coupling between the RMB and the KRW. Not only trade and finance channels but also policy implementations are important. Chapter Six develops the index for the KRW internationalization in light of the RMB internationalization. This chapter finds that the RMB internationalization may hinder the KRW internationalization. If the Korean government continues to delay the KRW internationalization, the benefit from the currency internationalization will become smaller. In that regard, Chapter Seven emphasizes that at this moment, it is very meaningful to re-examine the long-term strategy for Korea's won internationalization.
The internationalization of the Korean won provides a new opportunity for the country's financial development, rather than a disruption to the current global financial system. In the process of the internationalization of RMB and KRW, China and Korea should further strengthen bilateral financial and economic cooperation to push forward the process of RMB and KRW internationalization. Because the RMB or the KRW each have such a small proportion of the global monetary system, it is premature to be concerned about competition. Cooperation should take priority. The key policy suggestions for cooperation between these two currency internationalizations could at the very least include: (1) increasing the bilateral currency swap lines (BSLs) and making them more effective; (2) encouraging more usage of RMB and KRW in bilateral trade and direct investment; (3) encouraging more Chinese investors to hold KRW denominated assets and so does the other party; (4) accelerating the development of offshore RMB market in Seoul while having increasingly important offshore KRW market in China; (5) strengthening the coordination and cooperation in exchange rate policies.
Sales Info
Quantity/Size, Sale Price

| | |
| --- | --- |
| Quantity/Size | 178 |
| Sale Price | 7 $ |