KIEP Holds 2H 2021 Press Conference, Announces World Economic Outlook for 2022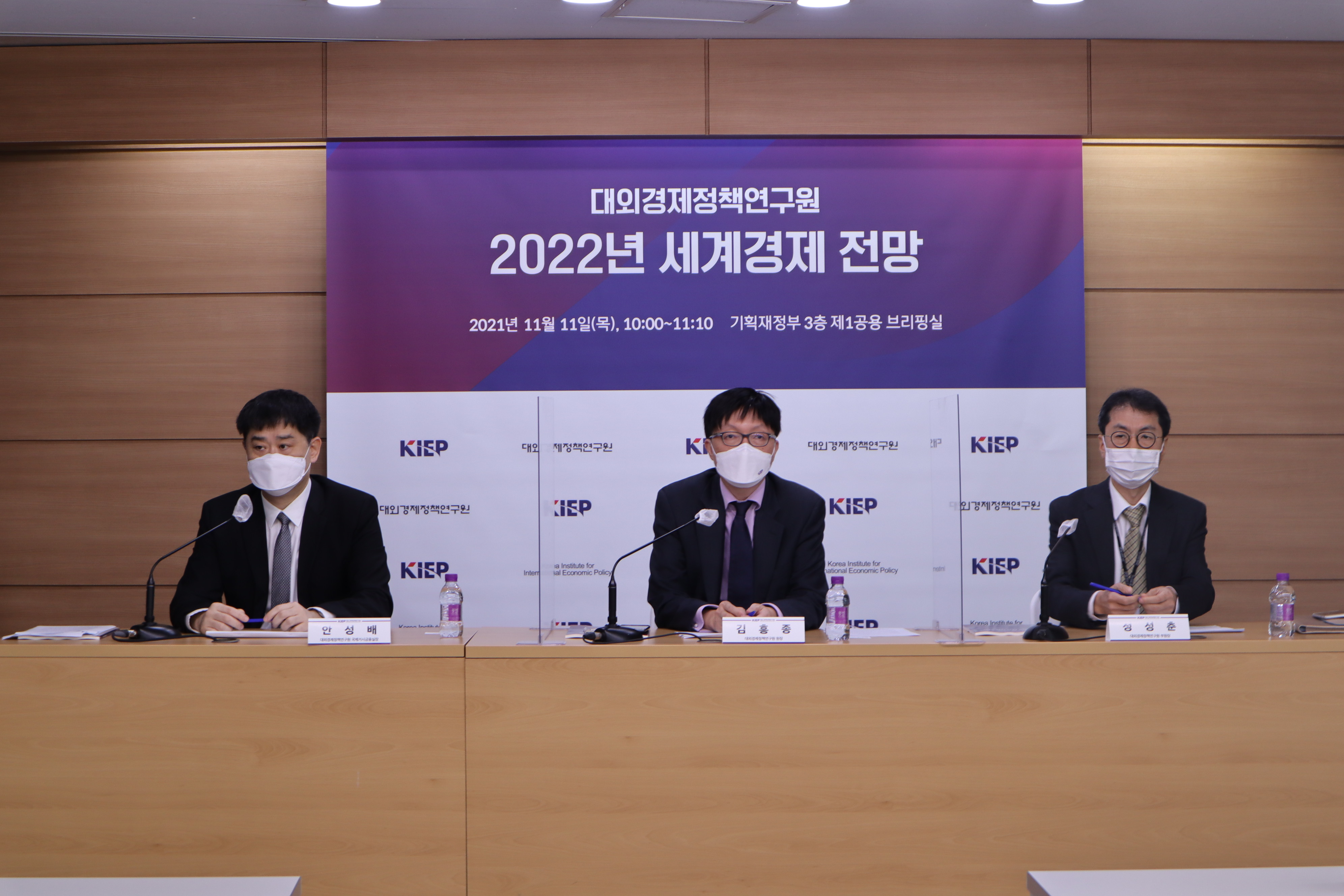 The Korea Institute for International Economic Policy (KIEP) held its regular press conference for the second half of 2021, on November 12, with Ministry of Economy and Finance correspondents, at the 3rd floor briefing room of the Ministry of Economy and Finance at the Sejong Government Complex, during which it announced its outlook for the global economy in 2022. The meeting was also broadcast live online through the government's electronic portal, serving as an opportunity for KIEP researchers to offer their views on major global issues, such as next year's growth rate for the global economy, and related issues such as structural transformation (digital transformation, green transformation) caused by the prolonged COVID-10 pandemic
In his opening remarks, President Heungchong Kim of KIEP stated that the global economy is expected to grow 4.6 percent in 2022 and cited "global major transformation" as a keyword encompassing the global economy this year. Explaining how a growing number of countries have pivoted toward "living with Covid" policies as the pandemic enters its third year, President Kim further analyzed policies for digital transformation and green transformation on the global scale, together with various lifestyle changes. He also predicted massive investments in related infrastructure, with this revitalizing the global economy amid high expectations around the world for investments toward a significant transformation. In addition, President Kim suggested that the Korean economy should focus on efforts to recover and restructure in preparation for substantial risk factors amid major global transformations.
Director Sungbae An of the International Macroeconomics & Finance Dept. briefed the opening of the outlook, predicting that global economic growth will fall 1.3 percent from 2021 to 4.6 percent in 2022. The cost burden, government budget constraints, bottlenecks and delays in the private sector due to green transformation, and delays in international cooperation and domestic political processes are expected to serve as significant risk factors for global economic growth.
The press conference was attended by KIEP experts, including Vice President Sung-Chun Jung of KIEP, Deputy President Choongjae Cho of the Center for Area Studies, Director Chankwon Bae of the International Trade Dept., Director Seung Shin Lee of the Chinese Economy Dept., Director June Dong Kim of the Advanced Economies Dept., Director Kwon Hyung Lee of the New Southern Policy Dept., Director Joungho Park of the New Northern Policy Dept., Dr. Gu Sang Kang, Head of the Americas Team, Dr. Jangho Choi, Head of the International Cooperation for Korean Unification Team, and Associate Research Fellow Sang-Ha Yoon of the International Macroeconomics Team, and MOEF press correspondents.
- Title: Korea Institute for International Economic Policy 2H 2021 Press Conference
- Topic: World Economic Outlook 2022
- Date & Time: November 11, 2021, 10:00-11:10
- Venue: First Public Briefing Office, Ministry of Economy and Finance, Government Complex Sejong
- Host: Korea Institute for International Economic Policy (KIEP)