2021 KIEP Visiting Scholars' Online Seminar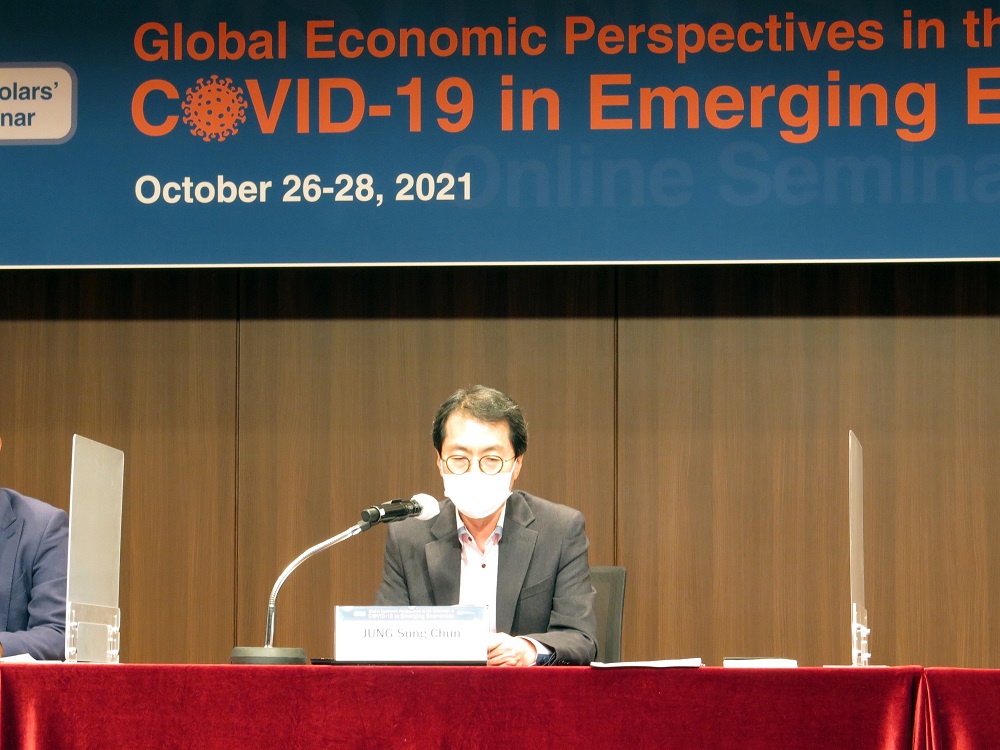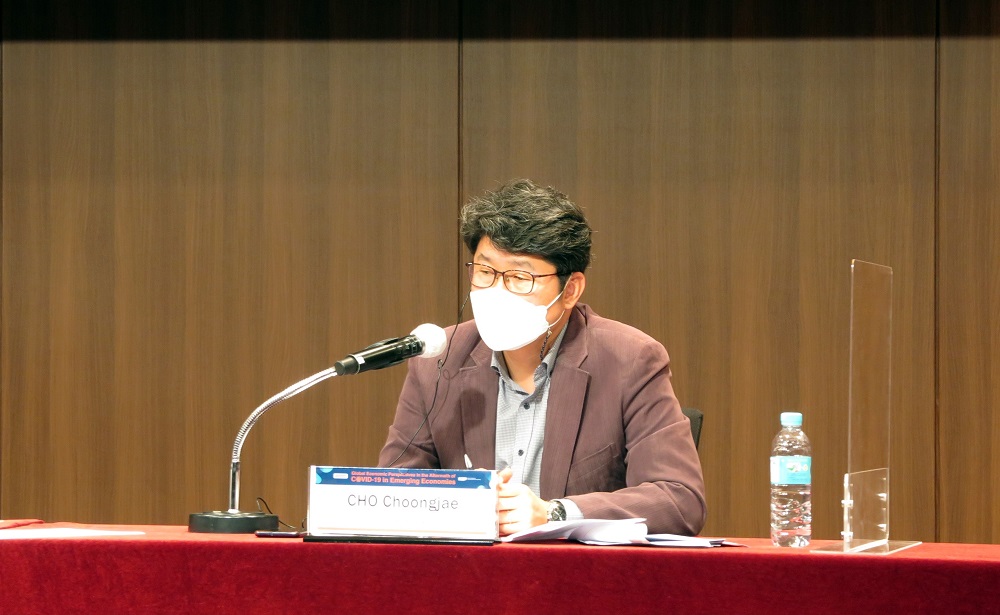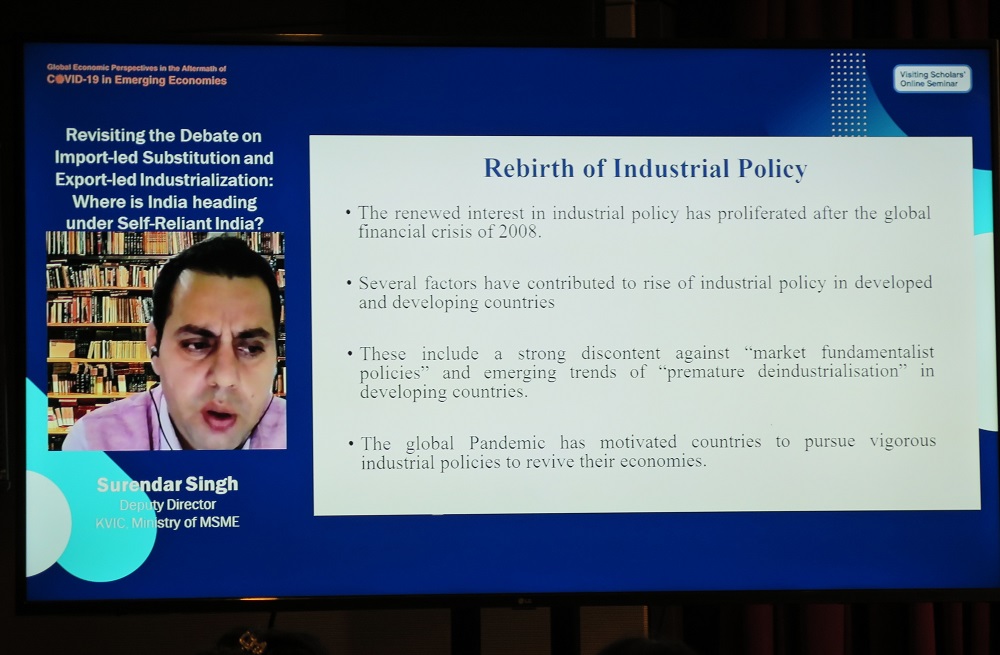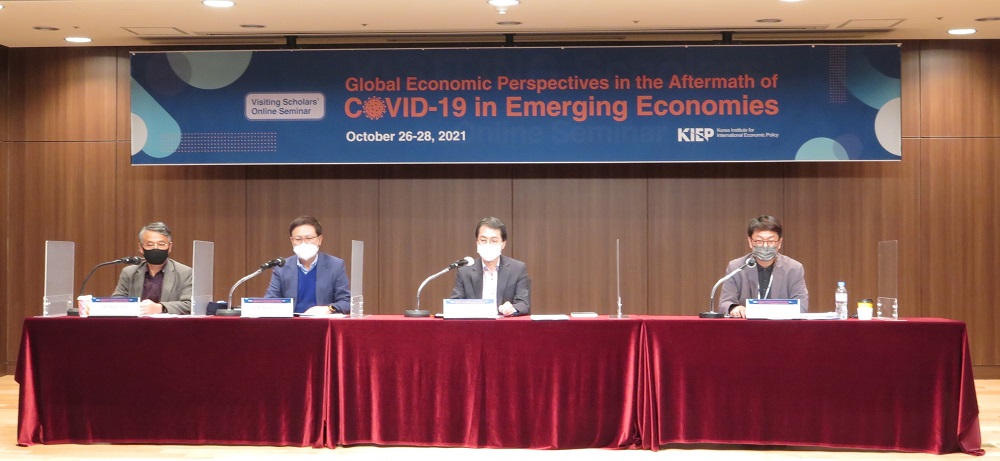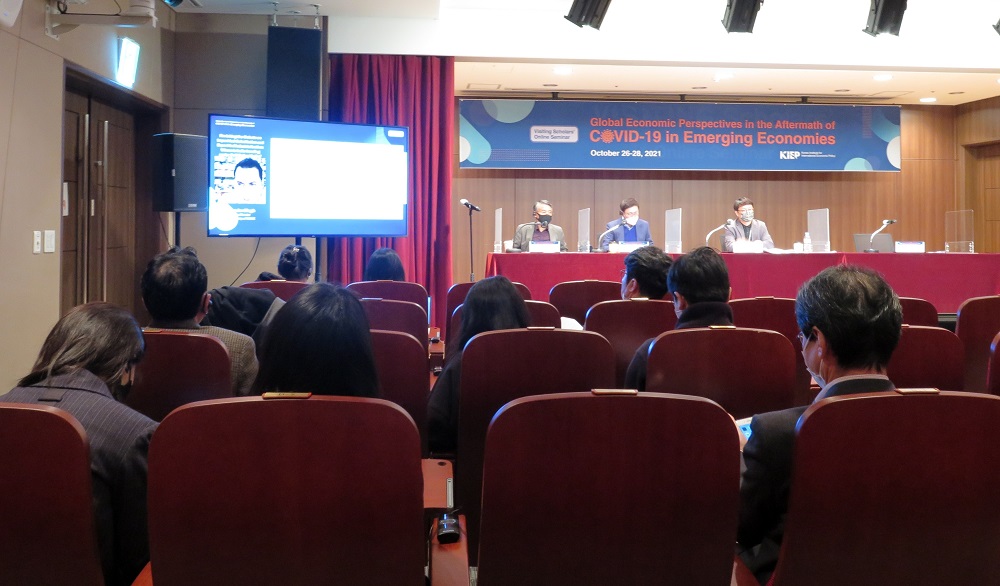 The Korea Institute for International Economic Policy (KIEP) held the 2021 KIEP Visiting Scholars' Online Seminar from October 26 to 28, under the theme of "Global Economic Perspectives in the Aftermath of COVID-19 in Emerging Economies," with the participation of 15 scholars from 14 countries.
On the first day, in the India and South Asia session, Dr. Surendar Singh, Deputy Director of KVIC, Ministry of MSME, India; Dr. Muhammad Aamir Khan, Assistant Professor, COMSATS University Islamabad, Pakistan; Dr. Bilesha Weeraratne, Research Fellow, Institute of Policy Studies of Sri Lanka; and Dr. Mohammad Masudur Rahman, Visiting Research Fellow, National University of Singapore participated and presented topics on import and export, income inequality, and re-migration. In the Southeast Asia session, Dr. Le Quoc Phuong, Former Deputy Director General, Vietnam Industry and Trade Information Center and Dr. Umi Karomah Yaumidin, Researcher, Indonesian Institute of Sciences participated and discussed about changes and challenges on international trade and digital financial services as a result of COVID-19.
On the second day, Dr. Nashwa Mostafa Ali Mohamed, Professor, Helwan University, Egypt; Dr. Zahra Zamani Nokabadi, Post-doc Researcher, University of Isfahan, Iran; and Dr. Florence Lwiza, Lecturer, Makerere University, Uganda discussed ESG criteria, economic regionalization, food security and labor market in the post-COVID era.
On the last day, in the Latin America session, Dr. Ignacio Munyo, Executive Director, Center for the Study of Economic and Social Affairs, Uruguay, and Dr. Gerardo Castillo, Research Fellow, Center for Economic Studies of the Private Sectors discussed post-pandemic situations in Latin America and Mexico's economic integration. In the Russia and Eurasia session, Dr. Sanat Kushkumbayev, Deputy Director, Kazakhstan Institute for Strategic Studies; Dr. Gulchehra Rikhsieva, Rector, Tashkent State Institute of Oriental Studies, Uzbekistan; Dr. Andrey Kovsh, Associate Professor, Saint Petersburg State University, Russia; and Dr. Sergey Lukonin, Head, Sector of Economy and Politics of China, Institute of World Economy and International Relations of the Russian Academy of Sciences participated and covered diverse topics including the economic impact of COVID-19 in each country, prospects for cooperation in higher education, energy cooperation, and Russian-Chinese trade cooperation and implications for South Korea.
Through this 3-day online seminar, scholars from diverse countries had a chance to discuss how the global pandemic has impacted emerging economies with regard to changes up to now, future outlook, and multi and bilateral cooperation, thereby contributing to broader and sturdier networks between scholars and institutes on an international level.
- Theme: 2021 KIEP Visiting Scholars' Online Seminar
- Date & Time: Oct 26 (Tue), 2021 – 28 (Thu)
- Venue: Auditorium 2, Building A, Sejong National Research Complex
- Host: KIEP
- Contact: Researcher Injee Yoo, External Affairs Team (E-mail: ijyoo@kiep.go.kr)