KIEP Ranked 4th in the World for 2 Consecutive Years among International Economic Policy Think Tanks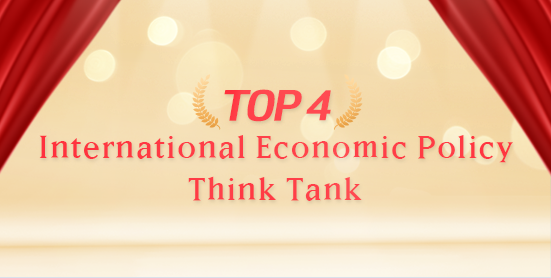 KIEP ranked fourth in the world for the second consecutive year in the "International Economic Policy" category, and first in Asia for the sixth consecutive year, in the 2020 Global Go To Think Tank Index, published by the Think Tanks and Civil Societies Program (TTCSP) of the Lauder Institute at the University of Pennsylvania.
KIEP also ranked 32nd among 11,175 think tanks, 30th when excluding the U.S, ranking first among the 11 Korean research institutes included in the survey in the areas of: top think tanks in major Asian countries (China, India, Japan, Korea); international economic policy; foreign policy and international relations; think tank conferences; and policy-oriented research programs.
In addition, KIEP was recognized in a total of 17 categories, the most among all Korean research institutes, reaffirming its status as a leading think tank in Korea. More remarkable is that it has continuously ranked in the "International Development Policy" category over the past five years, showing consistent results.
These results can be analyzed as the result of KIEP establishing its own International Development Cooperation Center for International Development Cooperation in 2020, greatly upgrading its official development aid (ODA) policy research and strategic evaluation functions, and expanding its scope of influence at home and abroad by identifying the way toward sustainable development.
Above all, it was the only Korean institute to be named in the newly introduced "2020 Best Policy and Institutional Response to COVID-19" index this year, recognized for its policy contribution through a preemptive study of the COVID-19 pandemic that has shocked the world since last year.
KIEPs rankings in the 2020 Global Go To Think Tank Index Report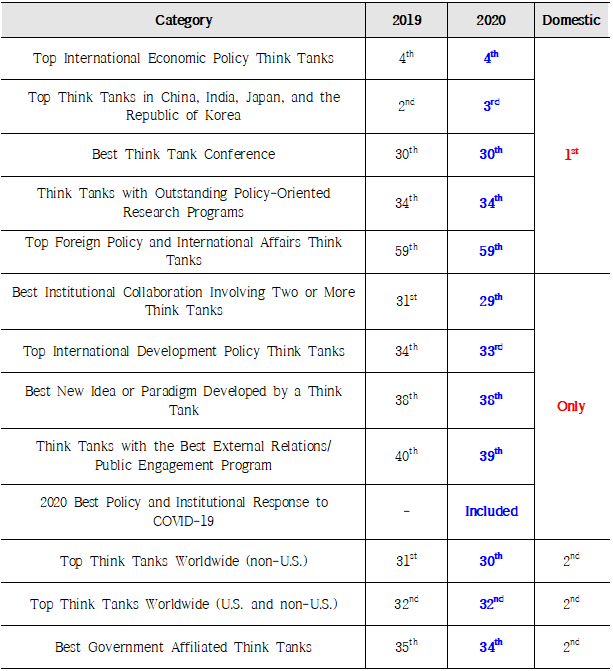 President Heungchong Kim of KIEP, said, "Whenever uncertainties at home and abroad increase, KIEP has analyzed flows in the global economy, including financial, trade, and regional issues, and expanded its base of research through collective intelligence," also adding, "In order to respond to the various challenges faced in 2021, KIEP will make more efforts to establish Korea's international economic strategy with expert insights and new ways of thinking."
* Recent Articles of the Event: Yonhap News, Newsis, Ajunews
* 2020 Global Go To Think Tank Index Report: TTCSP Homepage