The 20th KIEP-AMR Joint Seminar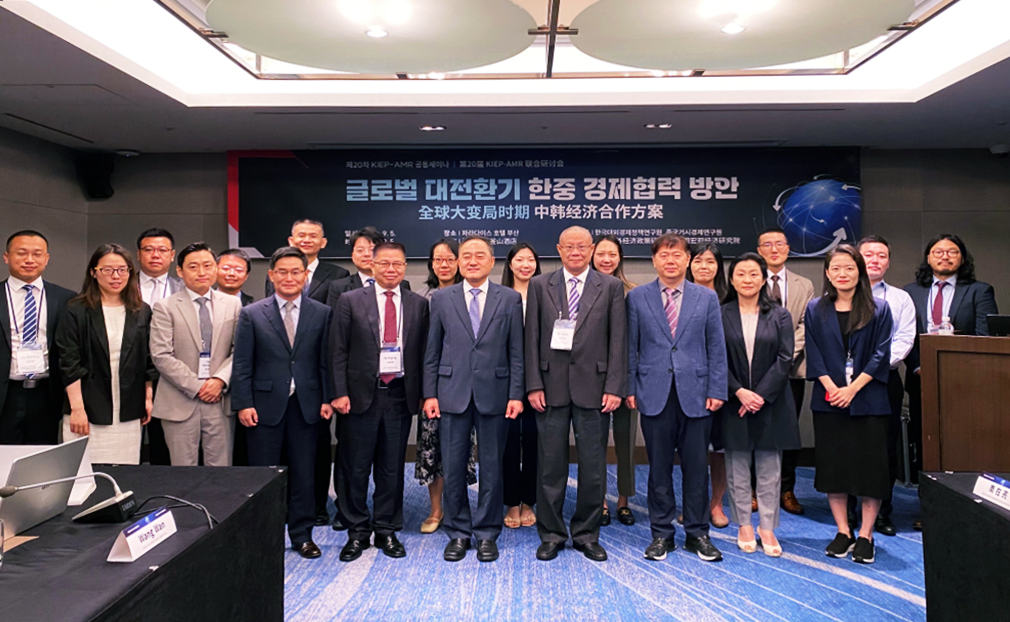 The Korea Institute for International Economic Policy (KIEP) and the Academy of Macroeconomic Research (AMR) jointly hosted the 20th KIEP-AMR Joint Seminar under the theme of "Sino-Korean Economic Cooperation Strategies in the Global Transition Era" at the Paradise Hotel Busan on Septermber 5.
Co-hosted by KIEP and AMR, the seminar was designed to promote research collaboration and exchange between the two countries' core national research institutions.
The event, which began with opening remarks by KIEP's Senior Vice President for External Affairs Chul Chung and AMR's Vice President Bi Jiyao, featured plenary sessions and three breakout sessions.
In his opening remarks Vice President Chul Chung emphasized that China-Korea cooperation is an important driving force for the economies of both countries and for regional stability. He stressed the need for a new turning point in the exchange and cooperation between the two countries, especially in the recent complex global economic situation.
In the plenary session, Dr. Seung Shin Lee, Senior Research Fellow of KIEP's Chinese Economy and Trade Team, gave a presentation on the topic of "Global Transition and Sino-Korean Economic Cooperation."
In Session 1, Head Ji Young Moon of the Chinese Economy and Trade Team continued with a presentation on "Korea's Foreign Direct Investment Strategy and Sino-Korean Cooperation."
In Session 2, Head Kyu Yub Lee of the New Trade Strategy Team and Head Jihyun Jung of the Chinese Regional Strategy Team gave presentations on "Digital Trade Agreement Roadmaps and Sino-Korean Digital Economic Cooperation" and "Global Governance Participation and Sino-Korean Challenges," respectively.
In Session 3, Dr. Jiwon Park, Associate Research Fellow of the Emerging Cooperation Agenda Team, presented on "Korean Companies' ESG Responses and Implications."
This international seminar brought together prominent researchers from KIEP and AMR, including Senior Research Fellow Jae Ryang Nam from the Korea Labor Institute (KLI) and Associate Research Fellow Eun-Kyo Cho from the Korea Institute for Industrial Economics & Trade (KIET), to share diverse opinions and explore ways to expand mutual cooperation between Korea and China.
- Title: The 20th KIEP-AMR Joint Seminar
- Theme: Strategies for China-Korea Economic Cooperation in the Era of Global Transition
- Date: September 5, 2023, Tuesday, 09:00 AM to 6:00 PM
- Venue: Paradise Hotel Busan
- Host: Korea Institute for International Economic Policy (KIEP), Academy of Macroeconomic Research (AMR)
- Contact: Minsuk Park, Senior Researcher of the Chinese Economy and Trade Team (mspark@kiep.go.kr)