The 12th KIEP-IMF Joint Conference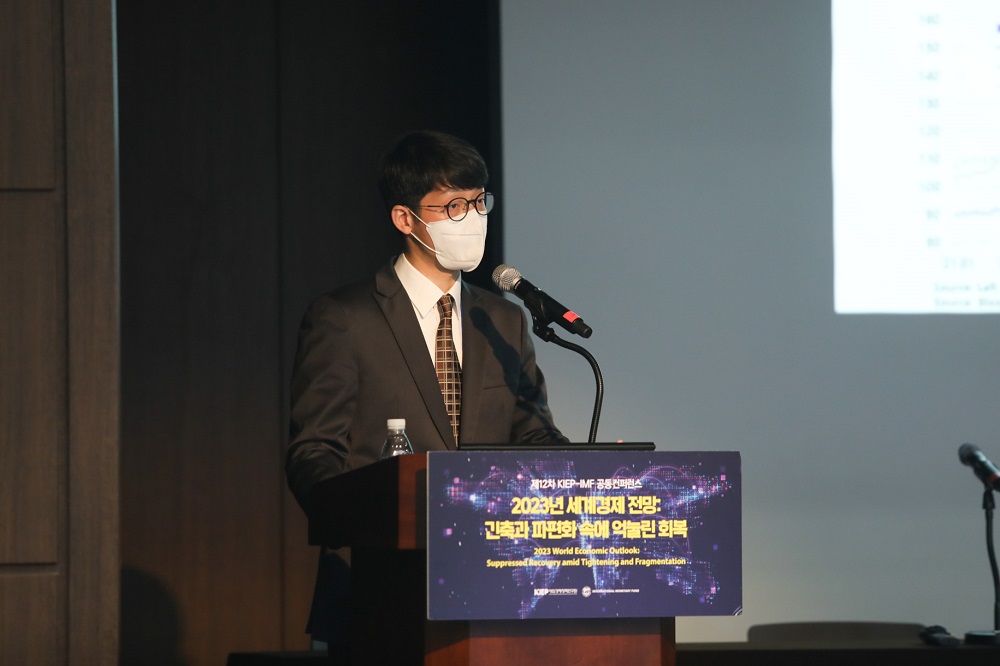 The Korea Institute for International Economic Policy (KIEP) held the 12th KIEP-IMF Joint Conference, together with the International Monetary Fund (IMF) on November 21st, 2022, under the theme of "2023 World Economic Outlook: Supressed Recovery amid Tightening and Fragmentation."
Since 2011, KIEP has held the annual KIEP-IMF Joint Conference to share its economic outlook and present research results for the sustainable development of the global economy. At the 11th Joint Conference last year, the world economy and policy directions for the era of great global transformation were presented.
President KIM Heungchong of KIEP stated in his opening speech that this year has seen much change in international conditions. President Kim mentioned that changes in each country's industrial policies in response to geopolitical conflicts are noticeable at a time when digital and green transitions are underway. Moreover, he stressed, "With global inflation at its highest level in 40 years, and the long-term scars of which have yet to surface, now is a critical time for policy combination and international cooperation."
Sang-Ha Yoon, Head of the International Macroeconomics Team at KIEP, predicted the global economy will achieve 2.4% growth in 2023, down from this year (3.1%). Yizhi Xu, an economist at the Asia and Pacific Department in IMF, forecast that the Asian region's economic growth rate for this year and next year will be 4.0% and 4.3%, respectively, and that solid growth will continue compared to other regions. Meanwhile, Korea is expected to grow by 2.6% and 2.05, respectively.
Alexander Copestake, an economist at the Asia and Pacific Department in IMF, predicted that the Asia-Pacific region will experience more difficulties in the future due to lower investment, decreasing employment and labor market participation rates, and productivity declines compared to other regions after COVID-19.
- Title: 2023 World Economic Outlook: Prevention and Rehabilitation in the Era of Pandemic
- Date & Time: November 21st (Mon), 2022, 14:00-17:00
- Venue: International Conference Room (2F), Korea Federation of Banks, Seoul
- Hosts: Korea Institute for International Economic Policy (KIEP), International Monetary Fund (IMF)
- Contact: Secretariat of KIEP-IMF Joint Conference (ejkang@kiep.go.kr)