Visiting Scholar's Seminar with Dr. Muhammad Akhtaruzzaman, Toi-Ohomai Institute of Technology, New Zealand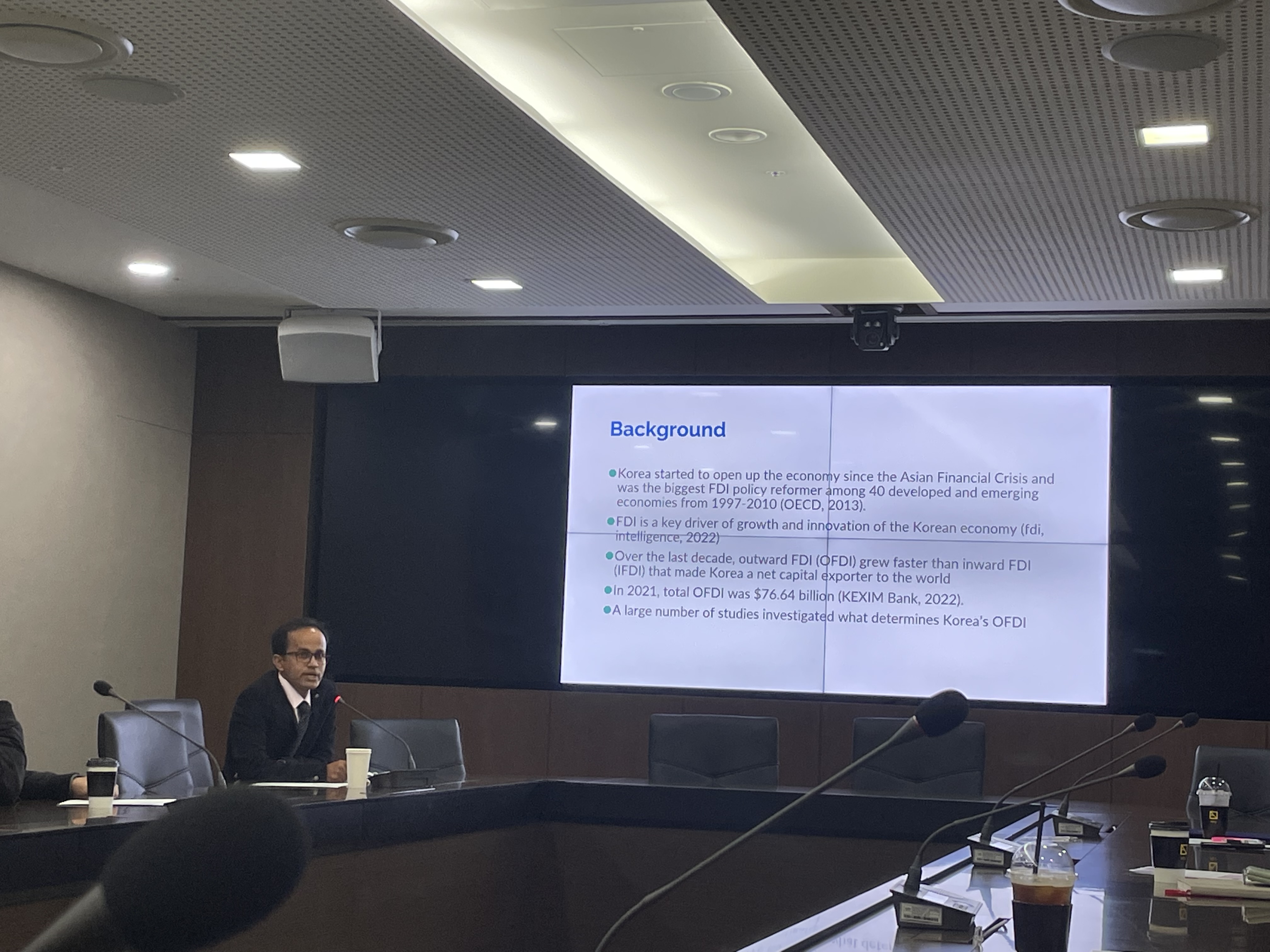 The Korea Institute for International Economic Policy (KIEP) held a visiting scholar's seminar with Dr. Muhammad Akhtaruzzaman from Toi-Ohomai Institute of Technology, New Zealand at the KIEP conference room in Sejong on November 16, 2022. Dr. Muhammad Akhtaruzzaman has participated in the KIEP Visiting Scholars Program for two weeks. The seminar was organized to share results of research activity conducted over his visiting period, jointly with other researchers at KIEP.
Dr. Akhtaruzzaman presented his ongoing project, "Does Institutional Quality Matter to Korean Outward FDI? A Gravity Model Analysis", in this seminar. By utilizing FDI data published by the Export-Import Bank of Korea, he analyzed how the institutional quality of the destination country can explain the magnitude of Korean outward FDI. In quantifying the institution's quality, he used World Bank's WGI (Worldwide Governance Indicators) which comprehensively considered corruption, government effectiveness, and political stability. He emphasized that the institutional quality has to be adequately considered, especially when we analyze Korea's outward FDI towards developing countries.
KIEP experts including Dr. Hyoungmin Han, Dr. Jeong Gon Kim, Dr. Yoon Jae Ro and Dr. Kyunghoon Kim from India and South Asia Team, and Dr. Nam Seok Kim from Southeast Asia and Oceania Team, attended the seminar and discussed the findings covered in the presentation.
- Topic: Does Institutional Quality Matter to Korean Outward FDI? A Gravity Model Analysis
- Date & Time: November 16 (Wed) 10:30-11:30
- Venue: KIEP meeting room 201
- Speaker: Muhammad Akhtaruzzaman, Senior Academic Staff Member, Toi-Ohomai Institute of Technology, New Zealand
- Contact: Injee Yoo, Researcher, Center for Area Studies (ijyoo@kiep.go.kr)