ASEAN-Korea Trade and Investment Roundtable 2022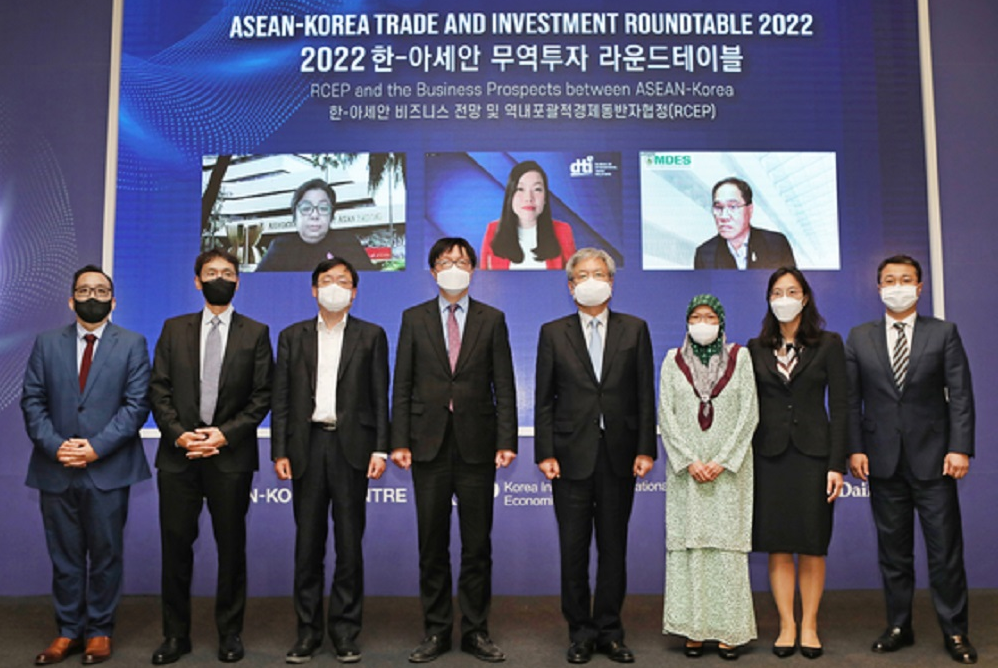 KIEP, The ASEAN-Korea Centre, and Korea JoongAng Daily hosted the second 'ASEAN-Korea Trade and Investment Roundtable 2022' on April 20th under the theme of Regional Comprehensive Economic Partnership (RCEP) and the Business Prospects between ASEAN-Korea. Adhering to the current social distancing measures, the event was live -streamed through the ASEAN-Korea Centre's YouTube channel.
As RCEP entered into force this year, prospects for increased trade among its member countries, comprising of 30% of global GDP, have been much anticipated. The Roundtable aims to delve into the practical aspects and critical benefits of RCEP with Keynote Presentations and Discussions, centered on Trade in Goods (TIG), Rules of Origin (ROO), Customs Procedures, and Trade Facilitation (CPTF), Electronic Commerce, etc. These topics were conveyed through the viewpoints of Keynote Presenters (ASEAN Secretariat and KIEP) and Panelists (relevant Ministries, institutes, and business organizations) from ASEAN and Korea. During the Keynote sessions, Ms. Anna Robeniol, Advisor to the Secretary-General of ASEAN and the Deputy Secretary-General for the ASEAN Economic Community of the ASEAN Secretariat, and Dr. Oh Soo Hyun, Associate Research Fellow of the Trade Agreement Team of KIEP delivered ASEAN-Korea trade and investment figures, major chapters of RCEP, and potential benefits and future implications.
- Title: RCEP and the Business Prospects between ASEAN-Korea
- Date: April 20, 2022
- Venue: The Shilla Hotel Seoul / Hybrid format via YouTube livestreaming
- Host: KIEP and AKC (ASEAN-Korea Centre)
- Contact: Jaeho Lee, Senior Researcher, Southeast Asia and Oceania Team (jhlee@kiep.go.kr)