The 20th EAER Best Paper Award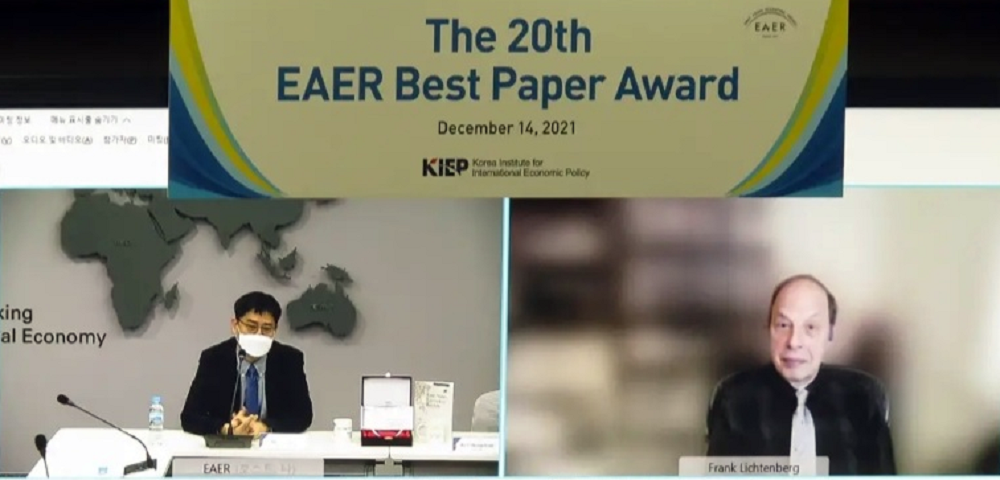 The Korea Institute for International Economic Policy (KIEP) has selected "The Health Impact of, and access to, New Drugs in Korea" authored by Frank R. Lichtenberg (Professor, Columbia University), as the first place award winner of the 20th EAER Best Paper Award. The award ceremony was held virtually on 14th December, 2021 via Webex at the conference room of KIEP.
The research by Lichtenberg empirically analyzes the effects of the introduction and use of new drugs on longevity and hospitalization in Korea. The paper is a work on health policy, which is an area of increasing importance in Korea, and provides important academic and policy implications. The interpretation of the introduction and use of new drugs as pharmaceutical innovation is interesting, and the empirical methodology (Difference-in-Differences) is properly applied.
The 20th Best Paper Selection Committee, composed of six members, applied four criteria of excellence for selection: academic contribution, research originality, logical clarity, and policy implications. Following careful deliberation throughout the selection process, the Committee selected Frank R. Lichtenberg's paper for the first prize. Second prizes were awarded to "Does Inward Foreign Direct Investment Affect Productivity across Industries in Korea" by Yong Joon Jang (Kyung Hee University), and "The Motivating Role of Sentiment in ESG Performance: Evidence from Japanese Companies" by Ngoc Bao Vuong and Yoshihisa Suzuki.
As a quarterly journal published by KIEP, the East Asian Economic Review (EAER) annually selects and announces winners of its Best Paper awards, with the purpose of establishing strong theoretical foundations for policy research and facilitating interdisciplinary research in the field of international economics and regional economic studies.
- Title: The 20th EAER Best Paper Award
- Date & Time: December 14th, 2021, 16:30-17:00
- Venue: Via Webex and Korea Institute for International Economic Policy (KIEP) Conference Room (3F)
- Host: Korea Institute for International Economic Policy (KIEP)
- Contact: Ms. JeongEun Lee, Specialist, Research Planning & Outcome Team (lje@kiep.go.kr)