KIEP-IMF Holds Joint Conference and Discusses The Great Transformation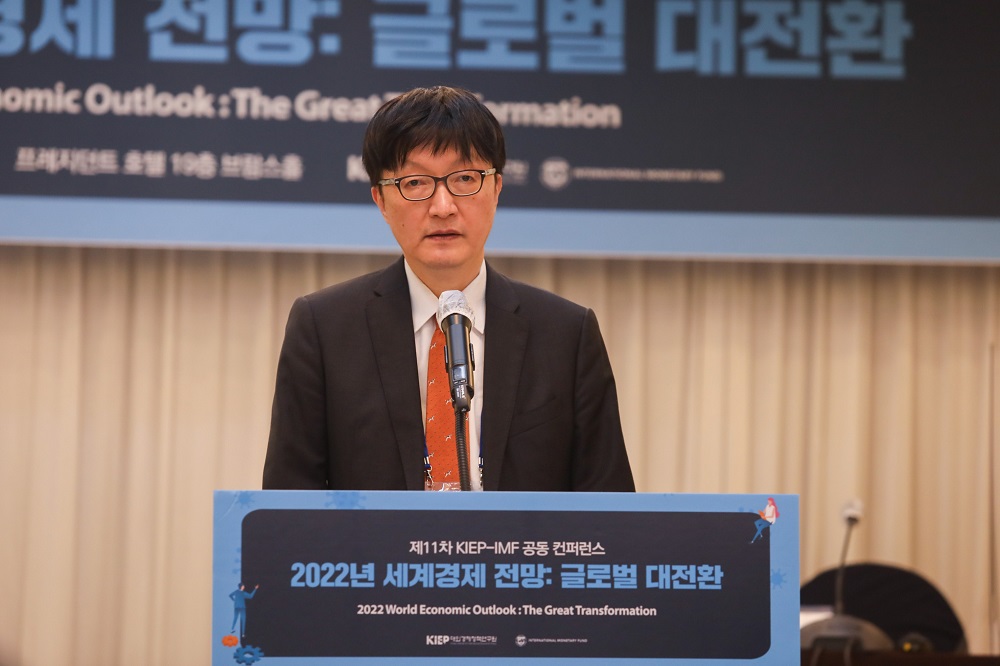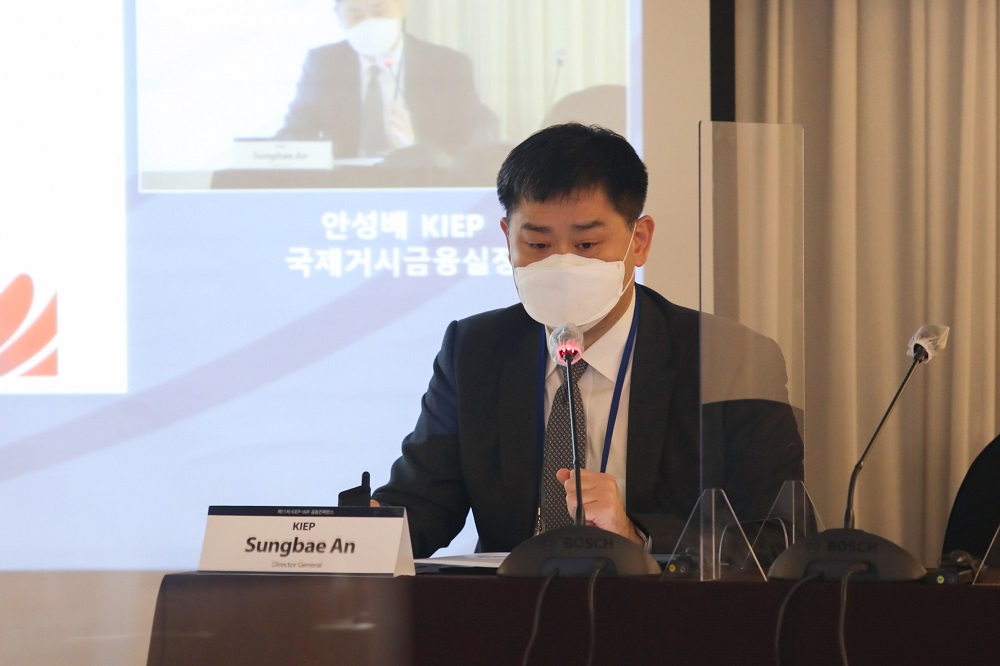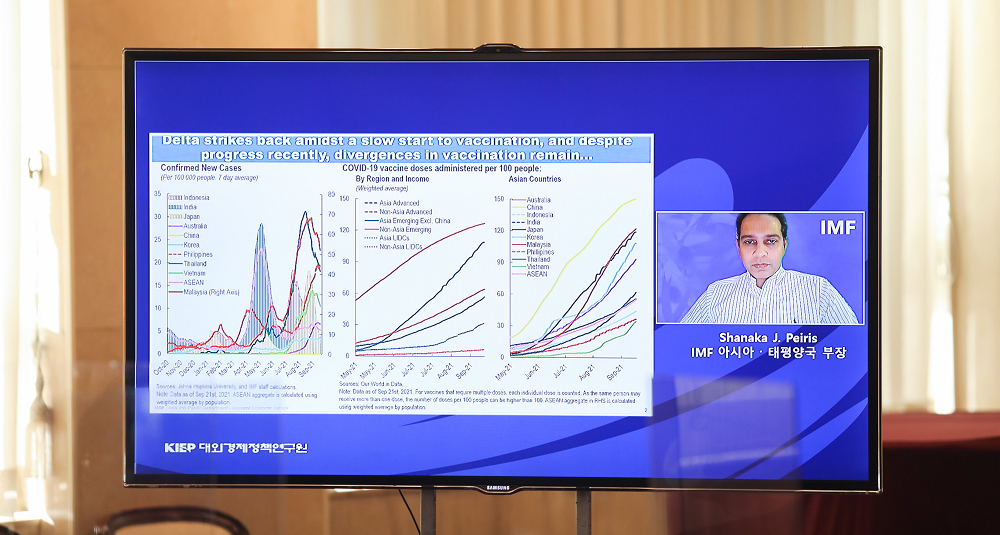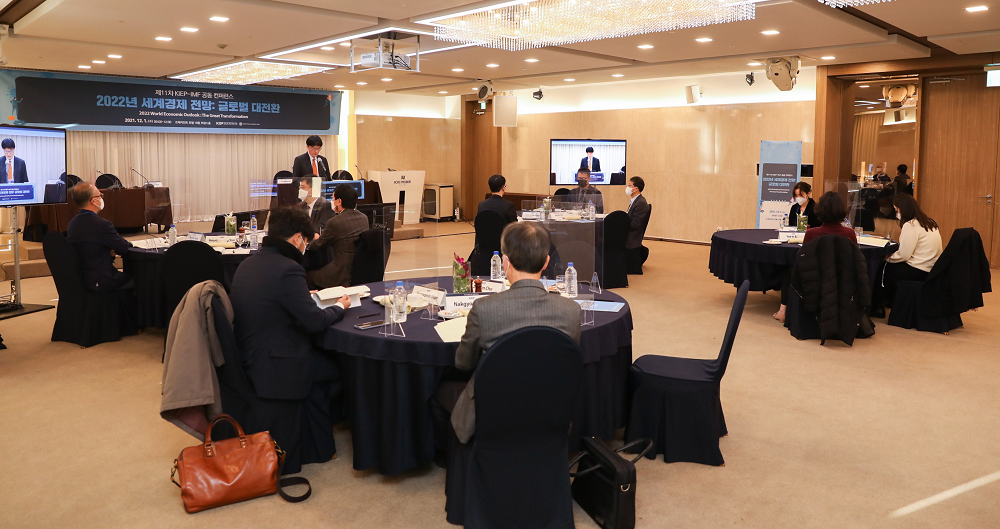 The Korea Institute for International Economic Policy (KIEP), together with the International Monetary Fund (IMF), hosted The 11th KIEP-IMF Joint Conference under the theme of "2022 World Economic Outlook: The Great Transformation" on December 1st. Experts in related fields from both organizations attended the conference to forecast the global economy in 2022 and discuss mid-to-long-term policy directions to respond to global changes after the pandemic and ways to recover growth through trade expansion in Asia.
​In his opening remarks, President Heungchong Kim emphasized that major global transformations, such as digital and green transformation and lifestyle changes, will become visible in 2022. He also stressed the need to develop policy measures to prepare for these significant risk factors, referring to the cost burden of converting to unexpected risks in a global transition, restrictions on the government budget, private bottlenecks and delays, and an uncertain international cooperation environment.
Sungbae An, Director of KIEP's International Macroeconomics & Finance Dept., predicted the global economy will record 4.6% growth in 2022. Director An explained that major developed countries are expected to continue their economic recovery in 2022, but in the case of the U.S., negative factors appearing in the process of economic policy transitions will have an impact, which was reflected in the global economic growth rate figures. He also stressed that uncertainties such as the ability to control the Delta variant were considered in the case of major emerging economies. In addition, he pointed out that disruptive factors hindering international cooperation, such as the gap in vaccination between developed and emerging countries, monetary policy coordination between significant countries, and the reignition of U.S.-China conflicts, have not been resolved.
Shanaka J. Peiris, Division Chief at the Asia and Pacific Department of the IMF, forecast a growth of 5.7% in Asia and 4.3% in Korea in 2021, 3.3% in 2022. He analyzed that the gap between developed and developing countries in Asia will widen in vaccination and policy support.
Siddharth Kothari, Economist at the Asia and Pacific Department of the IMF, presented implications for the Asian economy of trade liberalization. He pointed out the reality that non-tariff barriers are significantly higher than in other regions, even though trade has brought about prosperity in Asia. He also argued that non-tariff barriers need to be reduced to increase productivity and potential growth and recover from the pandemic.
Hyongmin Han, Associate Research Fellow at the New Southern Policy Department of KIEP, presented an analysis of changes in the global value chain before and after COVID-19 and suggested policy directions to respond to these changes.
Participants engaged in active discussions about the changes in the global supply chain and trade liberalization after COVID-19.
- Title: 2022 World Economic Outlook : The Great Transformation
- Date & Time: December 1st, 2021 (WED), 09:00-12:00
- Venue: Brahms Hall, President Hotel Seoul
- Hosts: Korea Institute for International Economic Policy (KIEP), International Monetary Fund (IMF)
- Contact: Secretariat of KIEP-IMF Joint Conference (sbkim@kiep.go.kr)