President Heungchong Kim Attends the 9th Seoul Economic Forum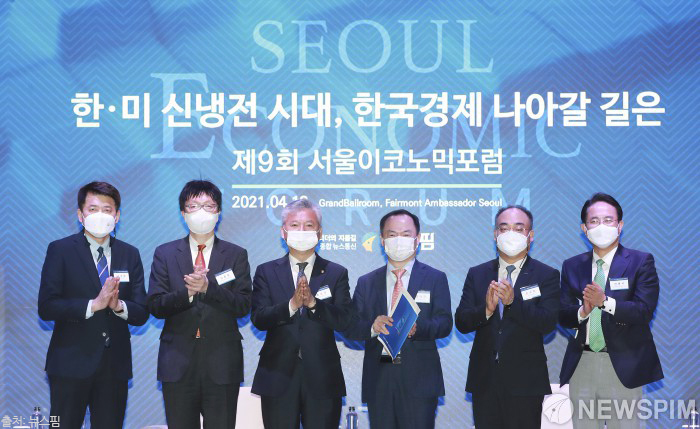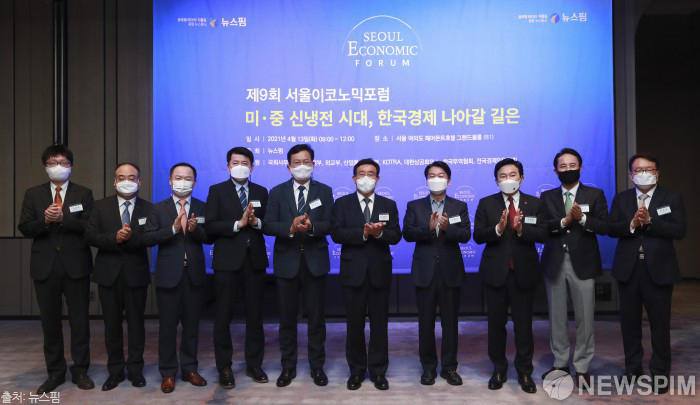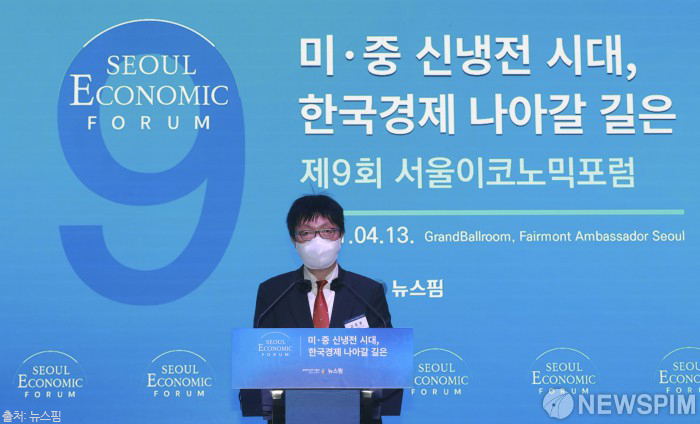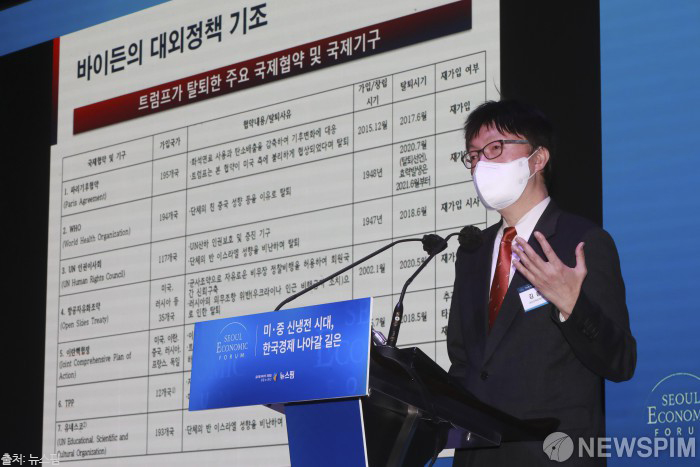 President Heungchong Kim of the Korea Institute for International Economic Policy (KIEP) attended the 9th Seoul Economic Forum on April 13th (Tuesday) at the Fairmont Ambassador Seoul.
The forum, hosted by the Korean private news agency Newspim, was held both offline and online to diagnose the U.S.-China conflict and the "New Cold War" era that has continued since the inauguration of U.S. President Joe Biden, and to identify promising directions for the Korean economy to move forward.
The forum started with opening remarks by Byeongbok Min, CEO of Newspim and Byeongseok Park, Chairman of the National Assembly; congratulatory addresses by Nak-yeon Lee, Former Representative of the Democratic Party, Chul-soo Ahn, Representative of the People Party, Young-gil Song, Chairman of Foreign Affairs and Unification Committee at the National Assembly; and various messages from political and financial figures, such as Hee-ryong Won, Governor of Jeju Province and Nam-ki Hong, Minister of the Ministry of Strategy and Finance.
In a presentation following the opening ceremony, President Heungchong Kim analyzed the challenges and countermeasures facing the Korean economy amid the rapidly changing world order in the era of the U.S.-China New Cold War. President Kim predicted that the Biden administration will maintain the Trump administration's strong foreign policy toward China with its allies in the fields of high-tech, human rights and supply chains in the future.
President Heungchong Kim expressed his view on the direction of the Korean government's trade policy as well, adding, "There is a possibility that the U.S. will demand for South Korea to join in strengthening solidarity with its allies, and that we should suggest ways to cooperate by participating in the restructuring of the U.S.-centered supply chain in our strong sectors."
As an example, he proposed a connective cooperation between the Biden administration's clean energy and infrastructure plan and Korea's Green New Deal. He also presented his opinions on the new trade environment facing the Korean economy, including climate and digital trade.
In the panel discussion which was mediated by Sungkook Hong, a member of the Democratic Party, domestic experts in foreign affairs and trade sought a practical solution to the U.S.-China conflict.
- Title: The 9th Seoul Economic Forum
- Topic: The New Cold War Era between the U.S. and China, Direction for the Korean Economy
- Date & Time: April 13, 2021, 9:00-12:00
- Venue: Fairmont Ambassador Seoul
- Host: Newspim