Policy Reference
Policy Reference
To list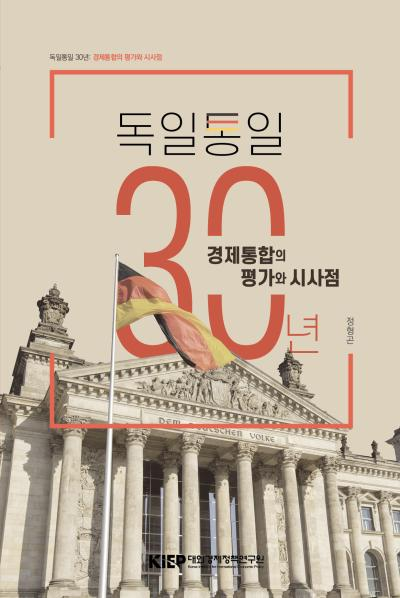 30 Years of German Unification: Assessment of Economic Integration and its Implications for the Korean Unification
Economic integration
Author Hyung-Gon Jeong Language Korean Date 2020.12.30
In 1990, the socialist economic system of East Germany was incorporated into the "Social Market Economy (Soziale Marktwirtschaft)" of West Germany, completing political, economic and social unification. The economic state of East Germany was in a more serious state than expected. With unification, East Germany's GDP fell by more than 30%, and the unemployment rate rose sharply to over 15%, and in the late 1990s, the unemployment rate in East Germany drew near 20%.
During the time of unification in 1990, the economic gap between East and West was the biggest problem in the process of social and economic integration. Since the reunification, the German government has made various efforts to bridge the regional gap between East and West Germany. The income of East Germans has now reached 80% of West Germans, and the productivity of labor has steadily improved to 80% of the average of the West German workers. 30 years after reunification, Germany is now the largest economy in Europe and it has the world's fourth highest nominal GDP.
Despite these positive aspects, the income and productivity gaps between East and West are still widening, and the rate of economic convergence is falling significantly. Moreover, the bigger problem remains in that skilled or professional workers are moving to West Germany due to the fact that there are not enough attractive jobs in the East.
The study aims to find whether the gap in economic power between the East and the West is decreasing and if the economies of East and West are converging in the process of economic integration. If the economies of the two regions have in fact converged, then it strives to discover the factors causing the convergence. It also intends to determine the remaining problems and challenges that exist to this day. In particular, by examining the factors that promoted the growth of the East German region and comparing them with the West German region, the study aims to provide policy implications for the unification of the Korean Peninsula.

Sales Info
Quantity/Size, Sale Price

| | |
| --- | --- |
| Quantity/Size | 130 |
| Sale Price | 7 $ |