Policy Analyses
Policy Analyses
To list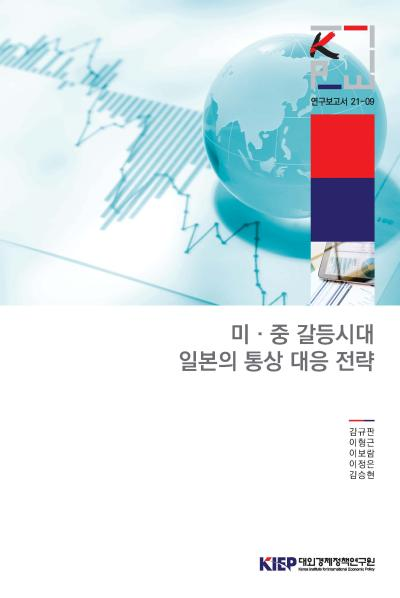 Japan's New Trade Strategy Amid U.S-China Confrontation
Trade policy, Overseas Direct Investment
Author Gyupan Kim, Hyong-Kun Lee, Boram Lee, JungEun Lee, and Seung-Hyun Kim Series 21-09 Language Korean Date 2021.12.30
This research was conducted with the purpose of providing implications for the Korean government and companies amidst the growing US-China conflict by analyzing the trade strategies of a country that shares similar international settings with Korea: Japan.
Chapter 2, "US-China Decoupling and China's Response," examines US-China decoupling policy, focusing on tariff imposition, export control, technology transfers, foreign investment controls, and government procurement. This study reveals that, although US-China economic relations have deteriorated to the point of partial decoupling or disengagement in high-tech sectors and other select areas of supply chains, it certainly is not up to the level of the US's containment of the Soviet bloc in the traditional Cold War sense.
Chapter 3, "Japan's Reshaping of the Global Supply Network: Focusing on China," attempts to verify whether the "China risk"—a notion that has been actively promoted by some in Japan since US-China frictions intensified in 2018, and escalated with the spread of COVID-19 in 2020—actually took place, and evaluates Japan's "China+1" policy, which is the country's hedging strategy toward China. The results reveal that although Japan's import dependence on Chins is significantly high for some import products, this does not seem to bear any serious risk for Japan in that the said products can easily be substituted with imports from other countries.
Chapter 4, "Japan's Economic Security Strategy," looks into Japan's new economic security policy, focusing on Japan's economic statecraft, reinforcing resilient supply chains and strategically important industries, and strengthening global supply chain with its "allies."
Chapter 5, "Japan's China Policy and Trade Strategy," reveals that Japan's position on China's Belt and Road Initiative and the Asia Infrastructure Investment Bank (AIIB) is somewhat far from the level of containment that the US is demanding of its allies, due possibly to Japan's strong economic ties to China, or its peace constitution. Regarding Japan's trade strategy, this study speculates that Japan, while promoting free and fair trade and cooperation with like-minded partners, will try to take the lead in shaping international norms on the emerging trade areas of environment, human rights and labor, and digital trade.
The research concludes with Chapter 6, which provides conclusions and political implications for the Korean government and companies.
Sales Info
Quantity/Size, Sale Price

| | |
| --- | --- |
| Quantity/Size | 217 |
| Sale Price | 10 $ |